Buy Antiviral Ingredients In Bulk To Make Your Own Hand Sanitizers, Disinfectant Wipes & Sprays | Isopropyl Alcohol, Ethanol, Hydrogen Peroxide, Glycerin & Benzalkonium Chloride For Sale Online | Create Your Own Purell Substitute
Buy The Correct Ingredients To Use For Properly Compounding Effective Alcohol-Based Hand Sanitizer Products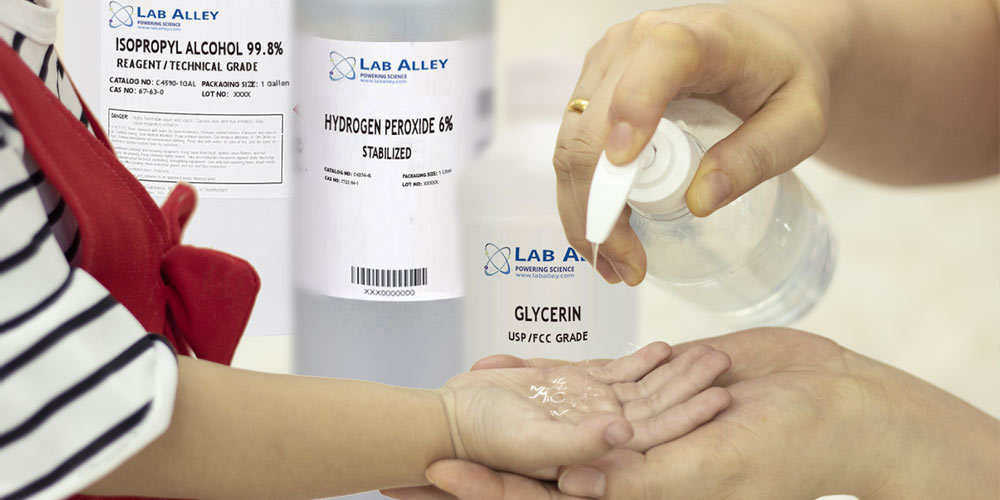 What Ingredients Do You Need To Make Your Own Hand Sanitizer

Making your own hand sanitizer is easy to do and only requires a few ingredients:
Aloe Vera Gel
An essential oil, such as tea tree oil or lavender oil, or you can use lemon juice instead.
The key to making an effective, germ-busting hand sanitizer is to stick to a 2:1 proportion of alcohol to aloe vera. This keeps the alcohol content around 60 percent. This is the minimum amount needed to kill most germs, according to the CDC. You can easily make it scented by adding in a few drops of essential oil or other fragrance. 
Buy Aloe Vera Gel For To Make DIY Hand Sanitizers
Aloe vera gel has soothing properties that make it great for irritated skin. It is one of the best natural moisturizers, containing vitamins, minerals, and antioxidants. Mix 3 parts isopropyl alcohol to 1 part aloe vera gel. Add a few drops of tea tree oil to give your hand sanitizer a pleasant scent. Two substances from Aloe vera – a clear gel and its yellow latex – are used to manufacture commercial products. Aloe gel typically is used to make topical medications for skin conditions, such as burns, wounds, frostbite, rashes, psoriasis, cold sores, or dry skin.
Buy Organic Tea Tree Oil To Make Homemade Hand Sanitizers
Tea tree oil has been proven time and time again to kill viruses, bacteria, mold, and fungi. It's also a natural anti-inflammatory. When you make your own hand sanitizer, as an extra protective measure and satisfying scent, you may want to consider adding a few drops of essential oil into the mixture. Add between 12 to 15 drops of an essential oil with antibacterial properties, like tea tree oil. Tea tree oil, also known as melaleuca oil, is an essential oil with a fresh camphoraceous odor and a colour that ranges from pale yellow to nearly colourless and clear. It is derived from the leaves of the tea tree.
Buy Lavender Essential Oil To Make DIY Hand Sanitizers
When it comes to natural hand sanitizer, ingredients are important. Lavender, tea tree and frankincense essential oils have great natural antiseptic properties. Lavender oil is an essential oil obtained by distillation from the flower spikes of certain species of lavender. Lavender use has been documented for over 2500 years. Romans used lavender oils for cooking, bathing and scenting the air. Lavender oils are also used for internal medical conditions, indigestion and heartburn. Lavender oil is said to soothe headaches, migraines and motion sickness when applied to the temples. It is frequently used as an aid to sleep and relaxation. Lavender oil is antibacterial and may even prevent scarring likely from its anti-inflammatory effects.
Buy Lemon Essential Oil To Make Your Own Hand Sanitizers 
Lemon or sweet orange oils are obtained as byproducts of the citrus industry. Before the discovery of distillation, all essential oils were extracted by pressing. Unlike other essential oils, lemon oil is usually cold pressed. Lemon essential oil can be added to a proper mixture of aloe vera gel and isopropyl alcohol as a component of an effective DIY hand sanitizer. In addition to lemon oil, other essential oils such as lavender, eucalyptus, and tea tree oil may be used as well to help mask the harsh scent of alcohol. Lemon essential oil is one of the most easily recognized oils because of its refreshing, energizing and uplifting scent. The health benefits of lemon oil can be attributed to its stimulating, calming, astringent, detoxifying, antiseptic, disinfectant and anti-fungal properties.
Buy Frankincense Essential Oil To Add To Homemade Hand Sanitizers
It is so easy to make your own hand sanitizer with frankincense essential oil.  By merely adding the frankincense essential oil to a simple base of rubbing alcohol and aloe vera gel, you can get the added benefits of essential oils to support the many systems in your body. The essential oil of frankincense is produced by steam distillation of the tree resin.
Buy Eucalyptus Essential Oil To Add To Your Homemade Hand Sanitizers And Sanitizing Solutions
The natural antibacterial properties of eucalyptus oil make it a good choice for DIY hand sanitizers. Eucalyptus oil is the generic name for distilled oil from the leaf of Eucalyptus, a genus of the plant family Myrtaceae native to Australia and cultivated worldwide. Eucalyptus oil has a history of wide application, as a pharmaceutical, antiseptic, repellent, flavouring, fragrance and industrial uses. The leaves of selected Eucalyptus species are steam distilled to extract eucalyptus oil. Eucalyptus oil is also used as a fragrance component to impart a fresh and clean aroma in soaps, detergents, lotions, and perfumes. It is known for its pungent, intoxicating scent. Sanitizing products made with eucalyptus oil fight foreign pathogens, bacteria, viruses and fungi.