Buy Antiviral Ingredients In Bulk To Make Your Own Hand Sanitizers, Disinfectant Wipes & Sprays | Isopropyl Alcohol, Ethanol, Hydrogen Peroxide, Glycerin & Benzalkonium Chloride For Sale Online | Create Your Own Purell Substitute
Buy The Correct Ingredients To Use For Properly Compounding Effective Alcohol-Based Hand Sanitizer Products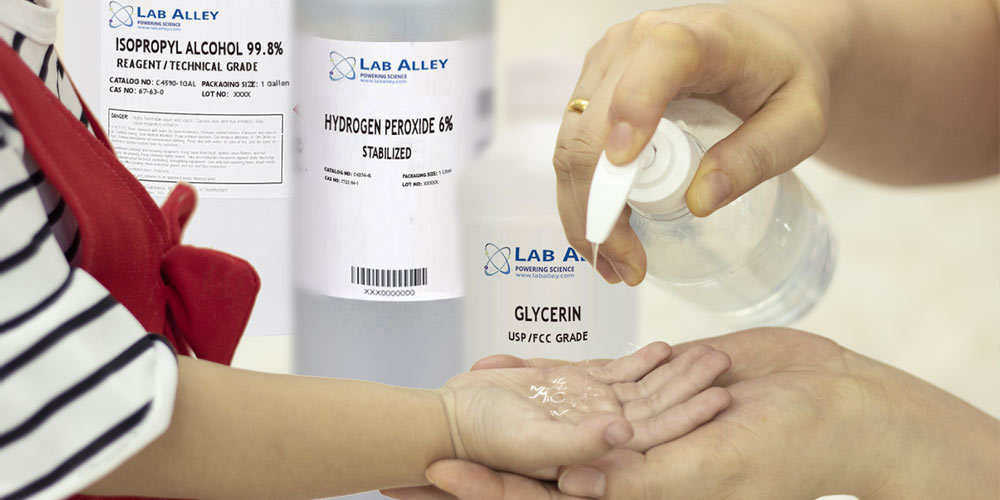 What Ingredients Do You Need To Make Your Own Hand Sanitizer

Making your own hand sanitizer is easy to do and only requires a few ingredients:
Aloe Vera Gel
An essential oil, such as tea tree oil or lavender oil, or you can use lemon juice instead.
The key to making an effective, germ-busting hand sanitizer is to stick to a 2:1 proportion of alcohol to aloe vera. This keeps the alcohol content around 60 percent. This is the minimum amount needed to kill most germs, according to the CDC. You can easily make it scented by adding in a few drops of essential oil or other fragrance. 
Video: Where to Buy Isopropyl Alcohol in Bulk Online
Posted On YouTube.com On January 12, 2021 By Lab Alley (LabAlley.com)