EPA-Registered & FDA/CDC Recommended Disinfectants For Sale | Buy 70%, 91% & 99% Isopropyl Alcohol In Bulk To Make Hand Sanitizers, Surface Sprays & Wipes To Kill Coronavirus (COVID-19/SARS-CoV-2) | Hydrogen Peroxide & Ethanol For Commercial Cleaning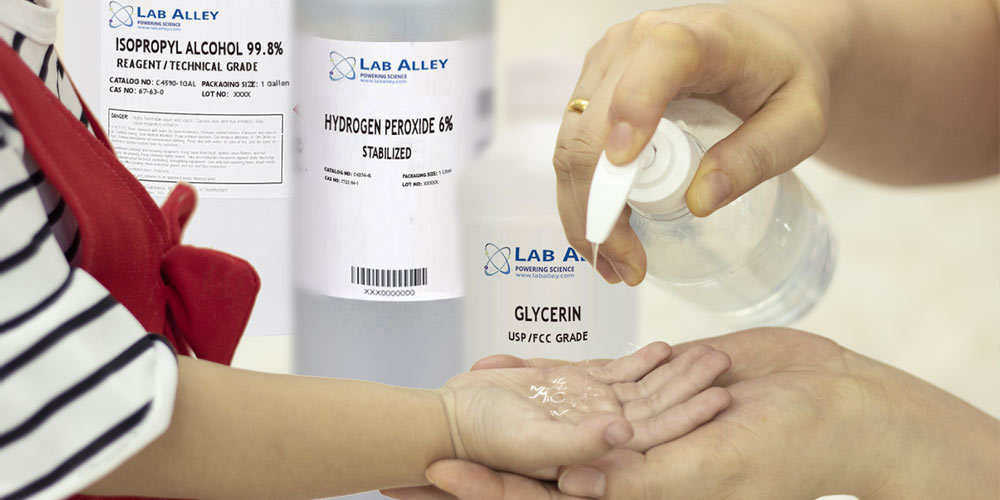 Buy Isopropyl Alcohol For Coronavirus | Buy Commercial Cleaning Supplies And Approved Chemical Ingredients To Make Antiviral Disinfectants, Sprays, Household Cleaning Products And Hand Sanitizers For Coronavirus (COVID-19) Infection Protection
The Best Virus Disinfectants Sold Online At LabAlley.com
Buy COVID-19 Disinfectants Online Here Or By Phone: 512-668-9918
If you have questions about ordering the best rated medical disinfectants, solutions, sprays, lab supplies and chemical ingredients to make your own Coronavirus disinfectants online here at LabAlley.com or would like to place an order, call 512-668-9918 or email customerservice@laballey.com to talk with an Disinfectant Specialist. Lab Alley is a coronavirus disinfectant wholesale supplier and online retailer based in Austin, Texas.
Use A 10% Discount Code To Order Virus Disinfectants
Use this 10% discount code to buy virus disinfectants online or by phone in the U.S: LAB10OFF.  
Isopropyl Alcohol For Coronavirus 
If your local store is out of hand sanitizer, buy isopropyl alcohol (better known as rubbing alcohol) at LabAlley.com to make do-it-yourself sanitizers. Tests have confirmed that two hand sanitizer formulations recommended by the World Health Organization (WHO) inactivate the virus that causes coronavirus disease 19 (COVID-19). Hand sanitizer can be made out of either ethyl alcohol, like the ethanol in alcoholic beverages, or isopropyl alcohol. Rubbing alcohol that's at least 70% alcohol will also kill coronavirus on surfaces; 60% for your hands. 
ExxonMobil makes isopropyl alcohol to help with the coronavirus effort. The firm recently reconfigured a facility to manufacture medical-grade hand sanitizer, which will be donated to health care providers and first responders. 
Where To Buy Ethanol To Make Your Own Hand Sanitizers, Surface Disinfectants And Household Cleaners To Use Against Coronavirus (SARS-CoV-2)
Properly made homemade hand sanitizer solutions can destroy the coronavirus. LabAlley.com is where you buy ethanol to formulate and compound alcohol-based sanitizers to inactivate novel coronavirus (COVID-19). Read hand hygiene recommendations from the CDC here.
Ethanol Alcohol (ethyl alcohol) can be used at home to make your own hand sanitizer mixtures. Alcohol (ethanol) used for alcohol-based hand sanitizers is derived from distillation or fermentation processes typically used for consumable goods. Antiviral hand sanitizer ingredients are for sale online here. 60% ethanol or 70% isopropyl alcohol inactivates viruses. Help protect against coronavirus by cleaning and disinfecting frequently touched surfaces and objects in your home like tables, doorknobs, light switches, countertops, handles, desks, phones, keyboards, toilets, faucets, sinks, etc.
Coronavirus Outbreak - Use Ethanol (Ethyl Alcohol) To Make Household Surface Disinfectants And Commercial Cleaners To Control Coronavirus COVID-19 (SARS-CoV-2)
To increase the supply of hand sanitizers, the FDA issued guidance for manufacturers that would like to produce alcohol (ethanol or ethyl alcohol) for use in alcohol-based hand sanitizers for consumers and health care personnel. LabAlley.com has addressed shortages of alcohol-based hand sanitizers associated with the COVID-19 pandemic by stocking the ingredients used to compound alcohol-based hand sanitizers. Buy safe chemical ingredients to make DIY homemade hand sanitizers and commercial cleaning solutions, here. Buy coronavirus disinfectants and sprays for household use, here. Prices for antiviral disinfectants, sanitizers and wipes start at $5.
Drinking methanol, ethanol or bleach DOES NOT prevent or cure COVID-19 and can be extremely dangerous. Methanol, ethanol, and bleach are poisons.
The World Health Organization (WHO) has reported an outbreak of disease caused by a novel coronavirus (referred to as 2019 Novel Coronavirus (2019-nCoV)).  This is an evolving situation, and it is recommended that all concerned consult the WHO, the United States Centers for Disease Control and Prevention (U.S. CDC) and the United States Environmental Protection Agency (U.S. EPA) websites frequently for the most updated information regarding the outbreak. 
How To Make Your Own Hand Sanitizer | Dr. Ian Smith
Alcohol-Based Hand Sanitizer Compounders Protect Children By Using Denatured Ethanol Or Isopropyl Alcohol

The FDA provides guidance on the production of alcohol-based hand sanitizer to help boost supply and protect public health during the Coronavirus (COVID-19) crisis. The CDC and the FDA are helping to keep children safe by recommending that compounders use denatured alcohol and isopropyl alcohol to formulate and manufacture hand sanitizers and coronavirus disinfectants. Because denatured alcohol (ethanol/ethyl alcohol) tastes awful and it smells bad, this hand sanitizer ingredient discourages young children from eating coronavirus disinfectants. Denaturants in alcohol make it unfit for human consumption.

To protect young children from accidental poisoning caused by unintentionally ingesting coronavirus disinfectants and hand sanitizers, the CDC and FDA are recommending that compounders and consumers use denatured alcohol, isopropyl alcohol, hydrogen peroxide, glycerin (glycerol) and sterile water to prepare alcohol-based hand sanitizers for consumer use and for use as health care personnel hand rubs. Get updated core disinfection/cleaning guidance from the CDC here.
The USP Compounding Expert Committee (CMP EC) provides recommendations for compounding alcohol-based hand sanitizers for use during shortages associated with the COVID-19 pandemic. Download the USP recommendations here (PDF).

Coronavirus disinfectants ordered online at LabAlley.com are used to clean the things that people touch the most such as phones, shopping carts, remote controls, tables, toilets, toothbrush holders, faucets, doorknobs, computer keyboards, light switches, desks, sinks and door handles.

Consumers and alcohol-based hand sanitizer manufacturers can order approved denatured alcohol (isopropyl alcohol and denatured ethyl alcohol), hydrogen peroxide, USP and FCC grade glycerin (glycerol), antiviral disinfectants, hospital grade disinfectants, raw materials for hand sanitizer ingredients and sterile water online at LabAlley.com to make products to fight COVID-19.
Distilleries, compounders, sanitizer manufacturers, botanical makers and American households purchase disinfectants and other cleaning supplies online at LabAlley.com to kill common viruses, mold, mildew, fungi, bacteria, pathogens and the novel coronavirus on contaminated surfaces.  Online orders of ingredients used to make coronavirus disinfectants, aerosol disinfectants and multipurpose cleaners surged in March of 2020.
To learn more about U.S. regulations concerning the use of denatured alcohol, please refer to the Electronic Code of Federal Regulations here. For guidance from the FDA for using denatured alcohol to make commercial hand sanitizers, please refer to this PDF titled, "Policy for Temporary Compounding of Certain Alcohol-Based Hand Sanitizer Products During the Public Health Emergency Immediately in Effect Guidance for Industry". 
Buy Coronavirus Disinfectants For Professional Cleaning Staffs
Cleaning professionals use coronavirus disinfection products ordered online at LabAlley.com to clean and safely disinfect for the novel coronavirus (SARS-CoV-2). The ISSA (Worldwide Cleaning Industry Association) offers education, training, and business resources to help cleaning workers manage the COVID-19 outbreak. Learn how to get trained to clean and disinfect for coronavirus here.
Canada's Interim Guide On The Production Of Ethanol For Use In Alcohol-Based Hand Sanitizers
May 8, 2020
This document provides information on the use of ethanol as an ingredient in alcohol-based hand sanitizers sold in Canada. Numerous Canadian entities and industries not currently regulated by Health Canada have expressed interest in providing additional and/or alternate sources of ethanol (also known as anhydrous alcohol, ethyl alcohol, or grain alcohol) for use in the production of hand sanitizers to support the national response to the supply shortage during the COVID-19 pandemic.

To help reduce the risk of infection or spreading infection to others, Health Canada recommends that individuals wash their hands often with soap and water, or use an alcohol-based hand sanitizer if soap and water are not available. Similarly, the World Health Organization (WHO) recommends that individuals regularly and thoroughly clean their hands with soap and water, or an alcohol-based hand rub, as part of proper hand hygiene.

On March 27, 2020, Health Canada released the Guide on Health Canada's Interim Expedited Licensing Approach for the Production and Distribution of Alcohol-Based Hand Sanitizers. The purpose of that Guide is to support companies that intend to manufacture, package, label and/or distribute alcohol-based hand sanitizers in response to the current shortage by providing a simplified and expedited pathway to obtaining the required authorizations.

This document provides further guidance on the quality requirements for ethanol to be used in the production of hand sanitizers. It also highlights key formulation aspects and points to additional flexibilities that can be leveraged during this emergency situation.

To protect the health and safety of Canadians, Health Canada remains committed to its mandate while balancing the need for exceptional measures during the COVID-19 pandemic. As such, the quality of ethanol used in manufacturing hand sanitizers must be fit for purpose and meet safety, efficacy and quality requirements.

This interim approach takes into account the current policies and best practices of foreign regulatory partners, including the United States (US) Food and Drug Administration (FDA), as well as the recommendations of the WHO and the US Pharmacopeia (USP).
Ethanol used for the production of hand sanitizers should conform to one of the identity and purity criteria published in any of the following quality standards, with any noted deviations provided in this interim guidance. For details on these quality standards, please refer to the weblinks provided below. Please note that some of these references may be accessed for free, while others require payment for full access:
The USP monograph specifies that ethanol must be 94.9% to 96.0% pure by volume, and provides the following concentration limits for impurities commonly found in ethanol:
Methanol: No more than 200 µL/L
Acetaldehyde and acetal: No more than 10 µL/L, expressed as acetaldehyde
Benzene: No more than 2 µL/L
Sum of all other impurities: No more than 300 µL/L
All formulations must meet the safety and efficacy requirements established in Health Canada's Antiseptic Skin Cleansers (Personal Domestic Use) monograph.

Health Canada recommends the manufacturing of ethanol‑based hand sanitizer as per the WHO formulation. Specifically, the WHO-recommended handrub formulations (2010) provides a recipe for the preparation of a hand sanitizer with a final concentration of 80% v/v ethanol. While Health Canada's monograph stipulates a range of 60%-80 v/v ethanol, an 80% v/v concentration is recommended for increased efficacy.

Formulation For A 10-Litre Preparation 
Other Acceptable Formulations Include: 
Records must be maintained on how the hand sanitizer is prepared, including details on how the final ethanol dilution in the finished product was derived. The amount of ethanol needed in the formulation should be calculated using the following equation (as set out in the USP guidance):
Non-Medicinal Ingredients (NMIs)
All NMIs added to a hand sanitizer product must be listed in Health Canada's Natural Health Products Ingredient Database (NHPID), indicated with an acceptable purpose and comply with all listed restrictions (as per the NHPID). Additional information is outlined below on quality requirements for specific NMIs used in ethanol-based hand sanitizers, based on the WHO guidance:
NMI
 Quality Requirements
Hydrogen Peroxide
The low concentration of

 

Hydrogen peroxide

 

in the finished product (0.125%) is intended to help eliminate contaminating spores in the bulk solutions and recipients and is not an active substance for hand antisepsis.
Glycerol

 

and other humectants or emollients

Glycerol (also known as glycerine or 1,2,3-Propanetriol) is added as a humectant at a final concentration of 1.45%, to increase the acceptability of the product and not to enhance viscosity.

Other humectants or emollients at a similar concentration may be used for skin care, provided that they are affordable, available locally, miscible (mixable) in water and alcohol, non-toxic, and not likely to cause an allergic reaction. Glycerol has been chosen because it is safe and relatively inexpensive. Lowering the percentage of glycerol may be considered to further reduce the stickiness of the handrub.

Use of proper
water
While

 

sterile distilled water

 

is preferred, boiled and cooled tap water may also be used as long as it is free of visible particles.
Addition of other additives
It is strongly recommended that no ingredients other than those specified in this document be added to the formulations. All NMIs  (including denaturants) must be listed in the Product Licence application. If additions or substitutions of an NMI are made after the product licence is issued, documentation must be maintained on the safety of the additive and its compatibility with the other ingredients. These documents must be available upon request by Health Canada. Any substitutions should come from approved ingredients in the NHPID. If the NMI that you intend to use is not found in NHPID, you can complete a

 

Natural Health Products Ingredients Database Issue Form

 

and submit to this

 

email

 

to add the ingredient. The full list of ingredients must be provided on the product label.
Denaturants
The use of denaturants is recommended to avoid the unintentional ingestion of hand sanitizers (particularly by children), but is not required under this interim approach. The

 

NHPID

 

includes a listing of acceptable denaturants that should be used if applicable in your formulation. Once this interim approach ceases to be in effect, to continue with the manufacture of hand sanitizer products, companies will be required to confirm with Health Canada that denaturants will be used from that point on.
Gelling agents
No data are available to assess the suitability of adding gelling agents to WHO-recommended liquid formulations; any additives selected for this purpose must be listed in Health Canada's

 

NHPID

 

and comply with listed restrictions. The addition of a gelling agent must be included in the list of ingredients on the product label.
Fragrances
Adding fragrances, while not prohibited, is not recommended because of the risk of potential allergic reactions. As with other ingredients, a fragrance would be considered an NMI and must be included in the Product Licence application and be listed on the product label.
Ingredients adhering to USP (or other acceptable standards, as listed above) should be used as the source of ingredients. However, given that there may currently be shortages of ingredients used to manufacture formulations of alcohol-based hand sanitizers, the following substitutions are acceptable:
When components meeting compendial quality standards are not obtainable, components of similar quality – such as those that are chemically pure, analytical reagent grade, or American Chemical Society-certified – may be used.
No ingredients should be added to enhance viscosity as they may decrease the effectiveness of the final preparation.
Disinfectant product ingredients, whether registered with the US Environmental Protection Agency or Health Canada, are not suitable as components for manufacturing hand sanitizers as they may not be safe for use on skin (i.e., may cause burns).
As per the Natural Health Products Regulations (NHPR), a Product Licence will not be issued if a product is likely to result in injury to the health of the consumer. Non-USP grade ethanol should be of a level of quality that is fit for human use in the finished hand sanitizer formulation.
For any products containing ethanol with specifications that deviate from the recommended standards, such as higher than permitted level of impurities in the above referenced standards, a risk assessment must be conducted and submitted to Health Canada for review. Each risk assessment will be evaluated on a case-by-case basis to determine if the ethanol is safe for use in hand sanitizer production. In the risk assessment, particular attention should be given to identify and quantify impurities, which are expected to be present (or likely to be present) as a result of manufacturing processes, starting materials, etc. An example of some impurities that would be expected in a non-USP or food grade ethanol product include acetaldehyde, benzene and methanol, though there may be others as well. Documentation including certificates of analysis (CoA) must be kept on record and made available at the request of Health Canada.
The Canada Revenue Agency (CRA) administers the Excise Act, 2001 which governs the federal taxation of several commodities, including spirits, and regulates activities involving the manufacture, possession and distribution of these products. For example, persons who produce and package spirits, persons who use non-duty-paid spirits in the manufacture of non-beverage spirit-based products such as cosmetics or hand sanitizers, and persons who operate warehouses to store non-duty-paid alcohol must possess an excise duty licence issued under the Excise Act, 2001.

Depending on the circumstances, a person may require a spirits licence, a user's licence and/or a specially denatured alcohol registration in order to legally produce hand sanitizer using non-duty-paid alcohol in Canada. There are a number of ways hand sanitizer can be produced by licensees or registrants without incurring an excise duty liability, for example:
A user licensee can produce hand sanitizer in accordance with an approved formulation without the payment of excise duty on the final product.
There are also provisions that would allow a specially denatured alcohol registrant to possess and use certain grades of specially denatured alcohol to produce hand sanitizer without the payment of duty.
A spirits licensee is authorized under the Excise Act, 2001 to denature spirits according to specified criteria, which are not subject to excise duty.
Although it could be cost prohibitive, there is also the option to use duty-paid alcohol to produce hand sanitizer. 
The requirements under the Act will vary depending on the circumstances of each case and the proposed activities to be undertaken.
Obtaining A Licence, Registration And/Or Approved Formulation Under The Excise Act, 2001
A number of spirits licensees, licenced users and brewer licensees (excise licensees) have expressed an interest in using non-duty-paid alcohol to make hand sanitizer. These are existing excise licensees who are seeking to temporarily expand their operations in response to the shortage in supply as a result of the COVID-19 pandemic. In some cases, excise licensees are requesting specially denatured alcohol registrations to allow them to possess and use specially denatured alcohol for this purpose. In other cases, spirits or brewer licensees are requesting users' licences and approved formulations. The CRA is also receiving enquiries from non-licensees who would like to apply for a specially denatured alcohol registration or user's licence and approved formulation for the purpose of producing hand sanitizer. In response to the current circumstances, the CRA has implemented a streamlined process to expedite the review and approval of these applications.
Applications for users' licences and specially denatured alcohol registrations should be submitted to your regional excise duty office using Form L63 Licence and Registration Application Excise Act, 2001. Applications for formulation approval should be submitted using Form Y15D - Request for Formula Approval. Note that a sample is not currently required for excise licensees applying for an approved formulation for the production of hand sanitizer. For questions or further information, please visit this website Excise Duties, Excise Taxes, Fuel Charge and Air Travellers Security Charge, which also includes the contact information for your regional excise duty office. These regional offices are your best source for information on excise taxes.
This interim approach is in effect immediately, and will be in effect until March 31, 2021 or until a notice is issued by Health Canada to licence holders (whichever is earliest). When the approach expires, production must cease, although existing product stock can be exhausted.
If you have questions in relation to this Guide or the licensing of alcohol-based hand sanitizers, please contact Health Canada's Natural and Non-prescription Health Products Directorate at hc.nnhpd-dpsnso.sc@canada.ca. 
Information On Hand Sanitizer Ingredients From Wikipedia
Hand sanitizer is a liquid, gel, or foam generally used to decrease infectious agents on the hands. In most settings, hand washing with soap and water is generally preferred. Hand sanitizer is less effective at killing certain kinds of germs, such as norovirus and Clostridium difficile and unlike soap and water, it cannot remove harmful chemicals. People may incorrectly wiped off hand sanitizer before it has dried, and some are less effective because their alcohol concentrations are too low.

In most healthcare settings alcohol-based hand sanitizers are preferable to hand washing with soap and water. Reasons include it being better tolerated and more effective. Hand washing with soap and water; however, should be carried out if contamination can be seen, or following the use of the toilet. The general use of non-alcohol-based hand sanitizers has no recommendations.

Alcohol-based versions typically contain some combination of isopropyl alcohol, ethanol (ethyl alcohol), or n-propanol, with versions containing 60% to 95% alcohol the most effective. Care should be taken as they are flammable. Alcohol-based hand sanitizer works against a wide variety of microorganisms but not spores. Compounds such as glycerol may be added to prevent drying of the skin. Some versions contain fragrances; however, these are discouraged due to the risk of allergic reactions. Non-alcohol based versions typically contain benzalkonium chloride or triclosan; but are less effective than alcohol-based ones. 
Alcohol has been used as an antiseptic at least as early as 1363 with evidence to support its use becoming available in the late 1800s. Alcohol-based hand sanitizer has been commonly used in Europe since at least the 1980s. The alcohol-based version is on the World Health Organization's List of Essential Medicines, the safest and most effective medicines needed in a health system. The wholesale cost in the developing world is about US$1.40–3.70 per liter bottle.
The Clean Hands campaign by the US Centers for Disease Control and Prevention (CDC) instructs the public in hand washing. Alcohol-based hand sanitizer is recommended only if soap and water are not available.

When using an alcohol-based hand sanitizer:
Apply product to the palm of one hand.
Rub hands together.
Rub the product over all surfaces of hands and fingers until hands are dry.
Do not go near flame or gas burner or any burning object during applying hand sanitizer.
The current evidence for the effectiveness of school hand hygiene interventions is of poor quality.
Alcohol-based hand sanitizers may not be effective if the hands are greasy or visibly soiled. In hospitals, the hands of healthcare workers are often contaminated with pathogens, but rarely soiled or greasy. In community settings, on the other hand, grease and soiling is common from activities such as handling food, playing sports, gardening, and being active outdoors. Similarly, contaminants like heavy metals and pesticides (generally found outdoors) cannot be removed by hand sanitizers. Hand sanitizers may also be swallowed by children, especially if brightly-coloured.

Some commercially-available hand sanitizers (and online recipes for homemade rubs) have alcohol concentrations that are too low. This makes them less effective at killing germs. Poorer people in developed countries and people in developing countries may find it harder to get a hand sanitizer with an effective alcohol concentration. Fraudulent labelling of alcohol concentrations has been a problem in Guyana.
Hand sanitizers were first introduced in 1966 in medical settings such as hospitals and healthcare facilities. The product was popularized in the early 1990s.

Alcohol-based hand sanitizer is more convenient compared to hand washing with soap and water in most situations in the healthcare setting. Among healthcare workers, it is generally more effective for hand antisepsis, and better tolerated than soap and water. Hand washing should still be carried out if contamination can be seen or following the use of the toilet.

Hand sanitizer that contains at least 60% alcohol or contains a "persistent antiseptic" should be used. Alcohol rubs kill many different kinds of bacteria, including antibiotic resistant bacteria and TB bacteria. They also kill many kinds of viruses, including the flu virus, the common cold virus, coronaviruses, and HIV.

90% alcohol rubs are more effective against viruses than most other forms of hand washing. Isopropyl alcohol will kill 99.99 % or more of all non-spore forming bacteria in less than 30 seconds, both in the laboratory and on human skin.

The alcohol in hand sanitizers may not have the 10–15 seconds exposure time required to denature proteins and lyse cells in too low quantities (0.3 ml) or concentrations (below 60%). In environments with high lipids or protein waste (such as food processing), the use of alcohol hand rubs alone may not be sufficient to ensure proper hand hygiene.

For health care settings like hospitals and clinics, optimum alcohol concentration to kill bacteria is 70% to 95%. Products with alcohol concentrations as low as 40% are available in American stores, according to researchers at East Tennessee State University.

Alcohol rub sanitizers kill most bacteria, and fungi, and stop some viruses. Alcohol rub sanitizers containing at least 70% alcohol (mainly ethyl alcohol) kill 99.9% of the bacteria on hands 30 seconds after application and 99.99% to 99.999% in one minute.

For health care, optimal disinfection requires attention to all exposed surfaces such as around the fingernails, between the fingers, on the back of the thumb, and around the wrist. Hand alcohol should be thoroughly rubbed into the hands and on the lower forearm for a duration of at least 30 seconds and then allowed to air dry.

Use of alcohol-based hand gels dries skin less, leaving more moisture in the epidermis, than hand washing with antiseptic/antimicrobial soap and water.
There are certain situations during which hand washing with soap and water are preferred over hand sanitizer, these include: eliminating bacterial spores of Clostridioides difficile, parasites such as Cryptosporidium, and certain viruses like norovirus depending on the concentration of alcohol in the sanitizer (95% alcohol was seen to be most effective in eliminating most viruses). In addition, if hands are contaminated with fluids or other visible contaminates, hand washing is preferred as well as after using the toilet and if discomfort develops from the residue of alcohol sanitizer use. Furthermore, CDC states hand sanitizers are not effective in removing chemicals such as pesticides.
Fire
Alcohol gel can catch fire, producing a translucent blue flame. This is due to the flammable alcohol in the gel. Some hand sanitizer gels may not produce this effect due to a high concentration of water or moisturizing agents. There have been some rare instances where alcohol has been implicated in starting fires in the operating room, including a case where alcohol used as an antiseptic pooled under the surgical drapes in an operating room and caused a fire when a cautery instrument was used. Alcohol gel was not implicated.

To minimize the risk of fire, alcohol rub users are instructed to rub their hands until dry, which indicates that the flammable alcohol has evaporated. Igniting alcohol hand rub while using it is rare, but the need for this is underlined by one case of a health care worker using hand rub, removing a polyester isolation gown, and then touching a metal door while her hands were still wet; static electricity produced an audible spark and ignited the hand gel. Fire departments suggest refills for the alcohol-based hand sanitizers can be stored with cleaning supplies away from heat sources or open flames.
Skin
Research shows that alcohol hand sanitizers do not pose any risk by eliminating beneficial microorganisms that are naturally present on the skin. The body quickly replenishes the beneficial microbes on the hands, often moving them in from just up the arms where there are fewer harmful microorganisms.

However, alcohol may strip the skin of the outer layer of oil, which may have negative effects on barrier function of the skin. A study also shows that disinfecting hands with an antimicrobial detergent results in a greater barrier disruption of skin compared to alcohol solutions, suggesting an increased loss of skin lipids.
Ingestion
In the United States, the U.S. Food and Drug Administration (FDA) controls antimicrobial handsoaps and sanitizers as over-the-counter drugs (OTC) because they are intended for topical anti-microbial use to prevent disease in humans.

The FDA requires strict labeling which informs consumers on proper use of this OTC drug and dangers to avoid, including warning adults not to ingest, not to use in the eyes, to keep out of the reach of children, and to allow use by children only under adult supervision. According to the American Association of Poison Control Centers, there were nearly 12,000 cases of hand sanitizer ingestion in 2006. If ingested, alcohol-based hand sanitizers can cause alcohol poisoning in small children. However, the U.S. Centers for Disease Control recommends using hand sanitizer with children to promote good hygiene, under supervision, and furthermore recommends parents pack hand sanitizer for their children when traveling, to avoid their contracting disease from dirty hands.

There have been reported incidents of people drinking the gel in prisons and hospitals, where alcohol consumption is not allowed, to become intoxicated leading to its withdrawal from some establishments.
On April 30, 2015, the FDA announced that they were requesting more scientific data based on the safety of hand sanitizer. Emerging science suggests that for at least some health care antiseptic active ingredients, systemic exposure (full body exposure as shown by detection of antiseptic ingredients in the blood or urine) is higher than previously thought, and existing data raise potential concerns about the effects of repeated daily human exposure to some antiseptic active ingredients. This would include hand antiseptic products containing alcohol and triclosan.
Hands must be disinfected before any surgical procedure by hand washing with mild soap and then hand-rubbing with a sanitizer. Surgical disinfection requires a larger dose of the hand-rub and a longer rubbing time than is ordinarily used. It is usually done in two applications according to specific hand-rubbing techniques, EN1499 (hygienic handwash), and EN 1500 (hygienic hand disinfection) to ensure that antiseptic is applied everywhere on the surface of the hand.
Some hand sanitizer products use agents other than alcohol to kill microorganisms, such as povidone-iodine, benzalkonium chloride or triclosan. The World Health Organization (WHO) and the CDC recommends "persistent" antiseptics for hand sanitizers. Persistent activity is defined as the prolonged or extended antimicrobial activity that prevents or inhibits the proliferation or survival of microorganisms after application of the product. This activity may be demonstrated by sampling a site several minutes or hours after application and demonstrating bacterial antimicrobial effectiveness when compared with a baseline level. This property also has been referred to as "residual activity." Both substantive and nonsubstantive active ingredients can show a persistent effect if they substantially lower the number of bacteria during the wash period.

Laboratory studies have shown lingering benzalkonium chloride may be associated with antibiotic resistance in MRSA. Tolerance to alcohol sanitizers may develop in fecal bacteria. Where alcohol sanitizers utilize 62%, or higher, alcohol by weight, only 0.1 to 0.13% of benzalkonium chloride by weight provides equivalent antimicrobial effectiveness.

Triclosan has been shown to accumulate in biosolids in the environment, one of the top seven organic contaminants in waste water according to the National Toxicology Program Triclosan leads to various problems with natural biological systems, and triclosan, when combined with chlorine e.g. from tap water, produces dioxins, a probable carcinogen in humans. However, 90–98% of triclosan in waste water biodegrades by both photolytic or natural biological processes or is removed due to sorption in waste water treatment plants. Numerous studies show that only very small traces are detectable in the effluent water that reaches rivers.

A series of studies show that photodegradation of triclosan produced 2,4-dichlorophenol and 2,8-dichlorodibenzo-p-dioxin (2,8-DCDD). The 2,4-dichlorophenol itself is known to be biodegradable as well as photodegradable. For DCDD, one of the non-toxic compounds of the dioxin family, a conversion rate of 1% has been reported and estimated half-lives suggest that it is photolabile as well. The formation-decay kinetics of DCDD are also reported by Sanchez-Prado et al. (2006) who claim "transformation of triclosan to toxic dioxins has never been shown and is highly unlikely."

Alcohol-free hand sanitizers may be effective immediately while on the skin, but the solutions themselves can become contaminated because alcohol is an in-solution preservative and without it, the alcohol-free solution itself is susceptible to contamination. However, even alcohol-containing hand sanitizers can become contaminated if the alcohol content is not properly controlled or the sanitizer is grossly contaminated with microorganisms during manufacture. In June 2009, alcohol-free Clarcon Antimicrobial Hand Sanitizer was pulled from the US market by the FDA, which found the product contained gross contamination of extremely high levels of various bacteria, including those which can "cause opportunistic infections of the skin and underlying tissues and could result in medical or surgical attention as well as permanent damage". Gross contamination of any hand sanitizer by bacteria during manufacture will result in the failure of the effectiveness of that sanitizer and possible infection of the treatment site with the contaminating organisms.
Alcohol-based hand rubs are extensively used in the hospital environment as an alternative to antiseptic soaps. Hand-rubs in the hospital environment have two applications: hygienic hand rubbing and surgical hand disinfection. Alcohol based hand rubs provide a better skin tolerance as compared to antiseptic soap. Hand rubs also prove to have more effective microbiological properties as compared to antiseptic soaps.

The same ingredients used in over-the-counter hand-rubs are also used in hospital hand-rubs: alcohols such ethanol and isopropanol, sometimes combined with quaternary ammonium cations (quats) such as benzalkonium chloride. Quats are added at levels up to 200 parts per million to increase antimicrobial effectiveness. Although allergy to alcohol-only rubs is rare, fragrances, preservatives and quats can cause contact allergies. These other ingredients do not evaporate like alcohol and accumulate leaving a "sticky" residue until they are removed with soap and water.

The most common brands of alcohol hand rubs include Aniosgel, Avant, Sterillium, Desderman and Allsept S. All hospital hand rubs must conform to certain regulations like EN 12054 for hygienic treatment and surgical disinfection by hand-rubbing. Products with a claim of "99.99% reduction" or 4-log reduction are ineffective in hospital environment, since the reduction must be more than "99.99%".

The hand sanitizer dosing systems for hospitals are designed to deliver a measured amount of the product for staff. They are dosing pumps screwed onto a bottle or are specially designed dispensers with refill bottles. Dispensers for surgical hand disinfection are usually equipped with elbow controlled mechanism or infrared sensors to avoid any contact with the pump.
In 2010 the World Health Organization produced a guide for manufacturing hand sanitizer, which received renewed interest because of shortages of hand sanitizer in the wake of the COVID-19 pandemic. Dozens of liquor and perfume manufactures switched their manufacturing facilities from their normal product to hand sanitizer. In order to keep up with the demand, local distilleries started using their alcohol to make hand sanitizer. Distilleries producing hand sanitizer originally existed in a legal grey area in the United States, until the Alcohol and Tobacco Tax and Trade Bureau declared that distilleries could produce their sanitizer without authorization.

There are cautions against making your own hand sanitizer. Some widely-circulated home recipes are ineffective or even poisonous.
World Health OrganizationThe has published a guide to producing large quantities of hand sanitizer from chemicals available in developing countries, where commercial hand sanitizer may not be available:
The WHO formulation are less viscous than commercial sanitizer gel, so like alcohol, they are a greater fire hazard.

Consumer alcohol-based hand sanitizers, and health care "hand alcohol" or "alcohol hand antiseptic agents" exist in liquid, foam, and easy-flowing gel formulations. Products with 60% to 95% alcohol by volume are effective antiseptics. Lower or higher concentrations are less effective; most products contain between 60% and 80% alcohol.

In addition to alcohol (ethanol, isopropanol or n-Propanol), hand sanitizers also contain the following:
Hydrogen peroxide may be added to inactivate spores within bottle of hand sanitizer but does not play a role when the hand sanitizer is used.
Buy 70% Ethyl Alcohol And 70% Isopropyl Alcohol For Sterilization And To Kill Viruses And Bacteria
Ethyl Alcohol (70%) is the most effective concentration for bactericidal and virucidal uses. 70% ethyl alcohol sold by LabAlley.com is a potent cleaning agent used to kill viruses, destroy microbes, denature proteins and dissolves lipid (fat) membranes surrounding viruses. Alcohol denatures proteins by disrupting the side chain intramolecular hydrogen bonding. Read the CDC disinfection and sterilization guidelines for chemical disinfectants here. U.S. consumers can also buy 100% ethanol without a license at LabAlley.com.
Buy Coronavirus (COVID-19) Disinfectant Cleaners That Meet EPA Standards To Protect Yourself, Your Family, Your Employees And Customers
This website provides key EPA resources on the coronavirus disease (COVID-19). 70% antibacterial and antifungal denatured alcohol and ethanol sold online at LabAlley.com are great virucidal disinfectants and hand sanitizers against non-enveloped viruses as well as single-stranded, positive-sense RNA viruses such as coronaviruses (CoVs). Coronavirus is enveloped which means that it has a coating on the outside. 
Ethanol and isopropyl alcohol are used throughout the world for disinfecting environmental surfaces in health care communities and for hand disinfection and hand rubbing. It has been noted that ethanol has a stronger and broader virucidal activity than propanols such as isopropanol.
Coronaviruses are host-specific and can infect humans as well as animals, cats and dogs causing a variety of clinical syndromes. Dogs can contract coronaviruses, most commonly the canine respiratory coronavirus. This specific novel coronavirus (COVID-19) is not a health threat to dogs, but dogs can test positive for the virus.
Coronaviruses are single-stranded, positive-sense RNA viruses with a genome of approximately 30 kb, the largest genome among RNA viruses. These viruses were named coronaviruses because by electron microscopy they have club-shaped surface projections that give them a crownlike appearance. Coronaviruses derive their name from the fact that under electron microscopic examination, each virion is surrounded by a "corona," or halo.
Non-enveloped viruses do not have a lipid-bilayer membrane. Non-enveloped viruses reproduce by breaching the membrane of a target host cell to get access to cytoplasm of the cell. A virus encased within a lipid bilayer is called an enveloped virus and a virus that does not have a bilayer is classified as a non-enveloped virus.
Buy Coronavirus Disinfectants Online At LabAlley.com For Infection Control In U.S. Households And Community Facilities
Due to the coronavirus outbreak, U.S. businesses and consumers order EPA recommended disinfectants and sanitizers in bulk at LabAlley.com for cleaning and disinfecting for the coronavirus (SARS-CoV-2) and to kill germs on surfaces in households and community facilities.
The 70% ethyl alcohol sold by LabAlley.com is a better virucide than the 70% isopropyl alcohol and is quickly antimicrobial against viruses, bacteria and fungi on hard surfaces. 
Isopropanol (isopropyl alcohol ) and ethyl alcohol in aqueous solutions between 60% and 90% alcohol with 10% to 40% purified water, kill bacteria and viruses by denaturing their proteins and dissolving their lipid membranes. When a bacterial cell is exposed to a solution of ethyl alcohol or isopropyl alcohol, the amphiphile alcohol molecules bond with the molecules of the bacteria's cell membrane, making it more soluble in water. This reaction causes the cell membrane to lose its structural integrity and then fall apart.
Buy Ethyl Alcohol And Isopropyl Alcohol At LabAlley.com To Kill Coronaviruses And Be Sure To Also Use Soap And Water
Ethyl alcohol, isopropyl alcohol and soap all kill the coronavirus. Soap contains fat-like substances known as amphiphiles, which are structurally very similar to lipids in virus membranes. Soap loosens the bond between viruses and skin which helps decrease the spread of viruses. Soap also loosens the Velcro-like interactions that hold the proteins, lipids and RNA in the virus together. Alcohol-based disinfectant products sold at LabAlley.com that contain a high-percentage alcohol solution (normally 70% ethanol and 70% isopropyl alcohol) kill viruses in the same way. Additionally, the mechanical action of hand washing with soap loosens viruses and bacteria from the skin.
The CDC recommends using an alcohol-based hand rub (ABHR) with greater than 60% ethanol or 70% isopropyl alcohol in healthcare environments. Unless hands are visibly soiled, an ABHR is recommended over soap and water in clinical situations because of evidence of better compliance compared to soap and water. Hand rubs are normally less irritating to hands and are effective in the absence of a sink.  Hands should be washed with soap and water for at least 20 seconds when visibly soiled, before eating, and after using the restroom. Learn more about hand hygiene in healthcare facilities here.
Buy Alcohol-Based Disinfectants At LabAlley.com To Compound Hand Sanitizers And To Keep Viruses From Replicating
Alcohol-based hand sanitizer compounders protect children by using denatured ethanol or isopropyl alcohol. The FDA provides guidance on the production of alcohol-based hand sanitizer to help boost supply and protect public health during the Coronavirus (COVID-19) crisis. Viruses intricately interact with and modulate cellular membranes at several stages of their replication, but much less is known about the role of viral lipids compared to proteins and nucleic acids.
All animal viruses have to cross membranes for cell entry and exit, which occurs by membrane fusion (in enveloped viruses), by transient local disruption of membrane integrity, or by cell lysis. The CDC and the FDA are helping to keep children safe by recommending that compounders use denatured alcohol and isopropyl alcohol to formulate and manufacture hand sanitizers and coronavirus disinfectants. 
Viruses are obligatory intracellular parasites that are simple in structure and composition, but engage in multiple and complex interactions with their host. Virus replication occurs exclusively inside the respective host cell. Accordingly, viruses have to cross the host cell boundary at least twice during their replication cycle, for entry and exit. Because these viral membranes are derived from the host, they may contain a complement of membrane-bound host cell proteins.
Because denatured alcohol (ethanol/ethyl alcohol) tastes awful and it smells bad, this hand sanitizer ingredient discourages young children from eating coronavirus disinfectants. Denaturants in alcohol make it unfit for human consumption.
Buy 70% Denatured Alcohol And 70% Isopropyl Alcohol To Combat Coronavirus
Both 70% denatured ethanol (140 proof) and 70% isopropyl alcohol are excellent disinfectants for surface-cleaning uses. 70% isopropyl alcohol is frequently used as an antiseptic in hospitals. Because of an increased demand for alcohol-based hand sanitizers during the COVID-19 pandemic, many U.S. healthcare facilities are augmenting their cleaning supplies by ordering ethyl alcohol (70%) and 70% isopropyl alcohol at LabAlley.com. In April of 2020, tons of 70% alcohol were ordered online at LabAlley.com for large-scale disinfection efforts against coronavirus and for household cleaning, sanitation and sterilization purposes in the U.S.
Buy antimicrobial disinfectants such as ethanol 70%, sodium hypochlorite and isopropanol to control Methicillin-resistant Staphylococcus aureus (MRSA) infections in homes and healthcare settings. Buy ingredients for safe recipes for DIY homemade hand sanitizers here. Buy coronavirus disinfectants here. Buy hospital grade disinfectants online here.  
Buy The Best Virus Disinfectants, Antimicrobial Sprays, Antibacterial Wipes And Household Cleaning Supplies Online
Best Virus Disinfectants Sold Online At LabAlley.com
Clorox Disinfecting Wipes, Bleach Free Cleaning Wipes Fresh, Fresh Scent




Advanced Fresh Scent formula. Removes tough soap scum. Eliminate 99.9% of household germs. DISINFECTING WIPES: Clean and disinfect with a powerful antibacterial wipe killing 99.9% of bacteria and viruses and remove common allergens around your home. ALL PURPOSE WIPE: The canister allows you to keep the cleaning wipes easily accessible where and when you need to clean up a mess. MULTI-SURFACE CLEANER: Germs and messes occur on more than kitchen counters and bathroom surfaces - conveniently tackle any tough surface including finished wood, sealed granite and stainless steel. DISPOSABLE WIPES: This 35 count canister of disposable, antibacterial wipes features a Fresh Scent (do not flush wipes). NO BLEACH: Disinfect and deodorize with the fresh smell of Clorox disinfecting wipes for a bleach-free, all-in-one cleaning alternative. Safely wipe down toys, remotes, or clean up car spills with these sanitizing wipes. Packaging May Vary. Clorox Disinfecting Wipes is an all-purpose wipe that cleans and disinfects with antibacterial power killing 99.9% of viruses and bacteria in a Fresh Scent. These disposable wipes remove common allergens, germs and messes on kitchen counters, bathroom surfaces and more. Each wipe can kill cold and flu viruses and bacteria including Human Coronavirus, Influenza A2 Virus, Staph, E. coli, MRSA, Salmonella, Strep and Kleb that can live on surfaces for up to 48 hours. Conveniently and safely tackle any tough surface including finished wood, sealed granite and stainless steel. Use on hard, nonporous, non-food-contact surfaces found in the home, office, classroom, pet area, dorm and locker room. Disinfect and deodorize with the fresh smell of Clorox clean in this bleach-free formula that you can keep anywhere dirt or germs may build up. Clean with the trusted power of Clorox Disinfecting Wipes.
Clorox Disinfecting Bathroom Cleaner, Spray Bottle, 30 Ounces


Clorox Disinfecting Bathroom Spray cleaner has been proven to cut through dirt, grime and soap scum faster than the leading bathroom cleaner. It also kills germs commonly found in the bathroom such as Salmonella choleraesuis (Salmonella), Staphylococcus aureus (Staph), Rhinovirus Type 37 and Influenza A virus (Hong Kong). This cleaner leaves behind no dull residue and is perfect for freshening and cleaning tubs, tile, toilets, sinks and counters. The Smart Tube technology insures you spray every stain fighting drop. Behind every sparkling clean bathroom, there is Clorox Disinfecting Bathroom Spray. BATHROOM CLEANER: Make your bathroom sparkle with Clorox Disinfecting Bathroom Cleaner in a spray bottle that cleans, disinfects and kills 99.9% of viruses and bacteria.
Does Hydrogen Peroxide Kill Coronavirus?
Yes, in all probability, SARS-CoV-2 can be efficiently inactivated with surface disinfection procedures that use hydrogen peroxide ordered at LabAlley.com. That being said, no hydrogen product exists in the U.S. market that has been tested to kill SARS-CoV-2 and approved by U.S. regulatory agencies such as the EPA or FDA.
Vaporized hydrogen peroxide is an effective decontamination method for masks and N95 respirators that have been contaminated by SARS-CoV-2. The U.S. Food and Drug Administration issued an emergency use authorization (EUA) to decontaminate compatible N95 or N95-equivalent respirators with vaporized hydrogen peroxide sterilizers.
3% hydrogen peroxide purchased online at LabAlley.com is used as a spray sanitizer to kill rhinovirus on surfaces. Because scientists claim that coronaviruses are easier to kill than rhinovirus, hydrogen peroxide should kill SARS-CoV-2. Hydrogen peroxide should not be used to treat COVID-19, which is the disease caused by the novel coronavirus.
Because the first confirmation of a case of 2019-nCoV (original name) was just confirmed on January 21, 2020, scientific studies and research to unequivocally validate that hydrogen peroxide will completely inactivate the SARS-CoV-2 virus are still ongoing. However, many products on the EPA List N Disinfectants For Use Against SARS-CoV-2 contain hydrogen peroxide. Duke University and Health System, will begin using hydrogen peroxide vapor to decontaminate and reuse N95 respirators.
Hydrogen peroxide is active against a wide range of microorganisms, including bacteria, yeasts, fungi, viruses, and spores. The CDC provides information on the effectiveness of hydrogen peroxide solutions against viruses. The hydrogen peroxide solutions listed on the CDC website include 0.5% accelerated hydrogen peroxide, 3% concentration, 6% hydrogen peroxide, 10% hydrogen peroxide solution, 7% stabilized hydrogen peroxide and 13.4% hydrogen peroxide. 
Buy Medical Grade Antiviral Disinfectants Online | Order Hospital Grade Disinfectants Here | Purchase Coronavirus Disinfectants At LabAlley.com | Find Out How To Kill Viruses Here
COVID-19 Information
Get information from Google to help your small business manage through the uncertainty caused by COVID-19 here. Buy products at LabAlley.com that can be used against emerging enveloped viral pathogens during the current novel coronavirus (COVID-19) crisis. Find out how to kill viruses here. Viruses can be eliminated with soap, bleach, alcohol, food or UV light.
Cleaning And Disinfecting Information
Learn how to clean and disinfect here. Disinfectant products need to be used correctly to be most effective, health experts say. Buy common household disinfectants at LabAlley.com that neutralize the coronavirus. There is much to learn about the novel coronavirus (SARS-CoV-2) that causes coronavirus disease 2019 (COVID-19). 
Shop Online For The Best Rated Coronavirus Disinfectants And Virus Killers To Prevent The Spread Of Infectious Diseases At LabAlley.com
04/13/20
List N: Products With Emerging Viral Pathogens And Human Coronavirus Claims For Use Against SARS-CoV-2
Important Virus And Infection Protection Information For The Public
Best Virus Disinfectants | Soap, Bleach, Alcohol, Lysol, Peroxide
Almost all cleaning products are in high demand in April 2020 because of allergies, the flu season and the coronavirus crisis. Buy the best EPA-approved disinfectants to kill the coronavirus here. Learn how to kill viruses in your home, water, laundry and body here. Get information on the best methods for killing viruses here. 
There is scientific research that indicates that the following items can mitigate and inactivate viruses: soap, Clorox Disinfecting Bleach, EPA-registered disinfectants, Lysol Clean & Fresh Multi-Surface Cleaner, hydrogen peroxide, Clorox Toilet Bowl Cleaner with Bleach, Microban, antiviral hand sanitizer ingredients, 70% alcohol, sodium hypochlorite, Clorox Pet Solutions Stain & Odor Remover, household cleaners, herbs, antiviral drugs, food, hydroxychloroquine, chloroquine, UV light, copper, essential oils, detergents, chlorine and vaccines. Read more here. 
U.S. medical supply firms and online retailers of antiviral hospital grade sanitizers and coronavirus disinfectants such as LabAlley.com, have been challenged by U.S. tariffs on imports of hand sanitizers and chemical disinfectants such as glutaraldehyde, used to fight the COVID-19 pandemic.
Antimicrobial Products That Are Effective Against Norovirus (Norwalk-Like Virus)
April 8, 2020

For pesticide registration information, review this list from the EPA, "List G: EPA's Registered Antimicrobial Products Effective Against Norovirus (Norwalk-Like Virus)".

Notes About This List
All EPA-registered pesticides must have an EPA registration number, which consists of a company number and a product number (e.g., 123-45). Alternative brand names have the same EPA registration number as the primary product.
When purchasing a product for use against a specific pathogen, check the EPA Reg. No. versus the products included on this list.
In addition to primary products, distributors may also sell products with formulations and efficacy identical to the primary products. Distributor products frequently use different brand names, but you can identify them by their three-part EPA registration number (e.g., 123-45-678, which represents a distributor product identical to the product example listed above, EPA Reg. No. 123-45).
If you would like to review the product label information for any of these products, please visit the EPA product label system.
Information about listed products is current as of the date on this list.
Inclusion on this list does not constitute an endorsement by EPA.
View more information about EPA lists of registered antimicrobial products here. You may need a PDF reader to view some of the files on this page. See EPA's About PDF page to learn more. 
Download List G: EPA's Registered Antimicrobial Products Effective Against Norovirus (PDF)(6 pp, 130 K, March 4, 2020)
Contact the EPA about pesticide labels, to ask a question, provide feedback, or report a problem. 
About The EPA Pesticide Product and Label System
The Pesticide Product and Label System (PPLS) provides a collection of pesticide product labels (Adobe PDF format) that have been accepted by EPA under Section 3 of the Federal Insecticide, Fungicide, and Rodenticide Act (FIFRA). New labels were added to PPLS on April 08, 2020.
The EPA Registration Number (EPA Reg. No.) appears on all registered pesticides sold in the United States. It is usually found on the back panel of the label along with the detailed instructions for use.
Enter the company number (the first set of digits before the dash) to see all products marketed by that company or the entire number (including the dash) to view the label for a particular product.
To search by Special Local Need Number, please enter two-letter state abbreviations with or without 6 digit number (i.e. OH123456).
Search Buy Product or Alternative Brand Name: Enter the name of the product. As you type, options will be presented to you. Keep in mind that product names may vary, so if you don't find the product you are looking for, try the EPA Registration Number Search.
Search By Company Name: Enter the name of the company. Some companies may have several divisions that manufacture and market pesticides products. You can select among these divisions using the drop-down list or choose the root of the company name (e.g., "Bayer" or "3M") to see products associated with all of the divisions.
Search By Company Number: Enter the company number. Please use digit without dash.
Search By Chemical Name (Active Ingredient): Enter the name of the chemical (Active Ingredients only) you are interested in. Because there are many naming conventions for chemicals, you can enter the common chemical name of the chemical or other variants, including scientific names or partial names. This search function will help guide you to products that contain that active ingredient.
Search By CAS Number Or PC Code: Enter the CAS Number or PC Code you are interested in. You may use the % wild card before and/or after your entry to enter a partial value.
Regulation Of Pesticide Labels
Information On Pesticide Product Label Topics
Get Help With Pesticide Label Issues
Types of Disinfectants With Examples | Microbiology with Sumi 
The "Microbiology With Suma" YouTube channel cover various topics related to several branches of microbiology including virology
EPA Announced New Surface Disinfectant Products Added to List N in Effort to Combat COVID-19
The National Law Review | Saturday, April 4, 2020
On April 2, 2020, the U.S. Environmental Protection Agency (EPA) announced the addition of new surface disinfectants on EPA's List N: Disinfectants for Use Against SARS-CoV-2 (List N) that may be used to combat SARS-CoV-2, the novel coronavirus that causes COVID-19. List N now contains 357 products. The webpage for List N also now has enhanced functionality to allow users to sort these products by surface type and use site. EPA states that it continues to expedite the review process for new disinfectants.

Previously, all products on List N had to have either an EPA emerging viral pathogen claim or have demonstrated efficacy against another human coronavirus. EPA now has expanded List N to include products on EPA's List G: EPA's Registered Antimicrobial Products Effective against Norovirus and List L: Products Effective against the Ebola Virus, as these products also meet EPA's criteria for use against SARS-CoV-2.

EPA has updated List N to include the types of surfaces on which products can be used (e.g., hard or soft) and use sites (e.g., hospital, institutional or residential). Products applied via fogging or misting are now noted in the formulation column. This additional information allows the public to choose products that are appropriate for their specific circumstances.

Additionally, EPA has updated the Frequently Asked Questions (FAQ) EPA has posted about disinfectants related to coronavirus. The FAQ update provides new information on pesticide safety, enforcement, and pesticide devices. It also includes enhanced explanations of why List N products are qualified for use against SARS-CoV-2 and how these products can be used most effectively.

EPA states that it has continued to adapt its processes to ensure the supply of disinfectants keeps pace with demand. EPA recently announced additional flexibility that allows manufacturers of already-registered EPA disinfectants to obtain certain active and inert ingredients from any source of suppliers without prior approval by EPA. EPA also added 48 additional chemicals to its list of commodity inert ingredients. EPA states that this regulatory flexibility aims to help ease the production and availability of EPA-registered disinfectants.

EPA also is expediting all requests for company numbers and establishment numbers to enable new pesticide-producing establishments to come online as quickly as possible.

Additional information on EPA's efforts to address the novel coronavirus is available here.
Does Widespread Disinfecting Kill the Coronavirus? | It's Under Debate 
Spraying streets and inside buildings might calm a worried public, but it's too early to know whether such efforts reduce transmission. Read more here.
Virus Disinfectant Efficacy Testing Information From Microchem Laboratory 
Virucidal Efficacy Testing Introduction
In the United States, virucidal disinfectants used on environmental surfaces are regulated by the Environmental Protection Agency (EPA) under the Federal Insecticide, Fungicide, and Rodenticide Act (FIFRA). The EPA regulates disinfectants and sanitizers as pesticides, often referring to them as "antimicrobial pesticides." Before a disinfectant can be sold in the U.S. it must first be registered with the EPA, as well as with all 50 states. Currently the U.S. EPA does not recognize "virucidal sanitizers" - all virucides must meet disinfectant-grade efficacy guidelines.

To register a virucidal disinfectant, companies must submit chemical characterization, safety, and efficacy data to the EPA, as well as pay registration fees. Efficacy data should be generated in compliance with Good Laboratory Practice Regulations (GLP). Test methods used should be taken from the Series 810 guidance, and companies should consult the EPA's Pesticide Registration Manual.
VIRUCIDAL EFFICACY TESTING IS DIFFERENT - HERE'S HOW:
Disinfectant Testing Basics:

The EPA currently only recognizes "hard surface carrier" methods for substantiation of virucidal efficacy claims. These methods consist of a non-porous carrier (typically glass) being inoculated with the selected virus, dried, and then treated with the disinfectant. Virucidal hard surface carrier methods are quantitative, meaning that percent and log reductions are calculated by determining the TCID50 (50% Tissue Culture Infective Dose) per carrier before and after treatment with the disinfectant. The disinfectant must demonstrate complete inactivation of the virus down to the limit of detection of the assay, or (if cytotoxicity is observed) a ≥ 3.00 log10 reduction (99.9%).

Observation of Results:
Virus testing is unique within the laboratory because the presence of viruses before and after product treatment is not determined by observing growth of virus but rather by observing the damage caused by infection to mammalian host cells. When virologists analyze individual sets of cells after a study, they use a microscope to look for where healthy cell layers become damaged. This damage is known as the cytopathic effects (CPE) of infection. The quantity and quality of CPE is used to calculate the amount of virus present.
CPE is typically observed as changes to cell appearance and monolayer (the layer host cells form when they attach to a flask or tray) disruptions. CPE can vary depending on the virus and host cell line used. Some instances of CPE are distinct, consisting of severe monolayer disruption and cell rounding. Some CPE can be subtle, consisting of gradual enlargement of host cells that is only recognizable when compared to a negative control. In cases where CPE is difficult to distinguish, special confirmatory assays are used to verify the results of the assay. Some more common confirmatory assays include Hemagglutination Assays (HA) and immunofluorescent staining (IF).
Study Preparation and Timeline:

From the laboratory's perspective, a significant amount of work and time is required to grow and maintain the sterile cell cultures that are needed to propagate and detect viruses in antimicrobial efficacy studies. From our customer's point of view, the cell culture requirement means that extra time must be given to the laboratory to prepare for and execute the study. Most studies take 1-2 weeks to complete, though some can take 3-4 weeks. The behind-the-scenes cell culture work and extraordinary expertise necessary to conduct virological assays also means that virological studies are more expensive than their related bacteriological assays.
Study Conduct and Parameters:

There are two main viral morphologies - enveloped and non-enveloped. Non-enveloped viruses consist of genetic material surrounded by a hard protein coat. Enveloped viruses have an additional lipid layer encompassing their protein coat. The limited sensitivity of non-enveloped viral components means that these viruses can persist in an infectious state even when exposed to harsh environmental conditions - including exposure to UV or relatively high temperatures. When it comes to testing, this means that one can translate almost any bacteriological study into a non-enveloped viral assay without changing too many parameters.

Enveloped viruses are another story. Their delicate lipid envelopes leave them vulnerable to environmental factors like osmotic pressure, low humidity, and high temperatures. When working with enveloped viruses, certain parameters (like contact times and contact temperatures) and even general study methods may need to be modified to accommodate the unique demands of these microbes.
VIRUSES TESTED AT THE MICROCHEM LABORATORY*
Adenovirus 1

Adenovirus 2

Bovine Viral Diarrhea Virus (US EPA-Approved Hepatitis C Surrogate)

Bovine Rotavirus

Canine Distemper Virus

Canine Parainfluenza Virus

Canine parvovirus

Coronavirus (human)

Coxsackievirus B3

Coxsackievirus B6

Echovirus 11

Enterovirus 68

Enterovirus 71

Epizootic Hemorrhagic Disease Virus

Equine Herpesvirus 1

Feline Calicivirus (US EPA-Approved Norovirus Surrogate)

Human herpesvirus 1 (HSV1)

Human herpesvirus 2 (HSV2)

Human herpesvirus 5 (Cytomegalovirus)

Hepatitis A virus

Influenza A virus, H1N1 (human)

Influenza A virus, H1N1 (swine)

Influenza B virus

Measles virus

Minute Virus of Mice

MS2 Bacteriophage (Viral Screening Tool)

Poliovirus 1

Respiratory Syncytial virus (RSV)

Rhinovirus

Rotavirus (Group A)

Vesicular Stomatitis Virus

Zika Virus
Protection For U.S. Consumers From Fraudulent Coronavirus Disinfectant Claims
Posted on April 4, 2020 
U.S. Environmental Protection Agency (EPA) Administrator Andrew Wheeler hosted an interactive telephone call with U.S. retailers and third-party marketplace platforms to discuss imposter disinfectant products and those that falsely claim to be effective against the novel coronavirus, SARS-CoV-2, the cause of COVID-19. The E.P.A. has threatened legal proceedings against vendors of bogus coronavirus (COVID-19) cleaners, disinfectants and sanitizers. While such products might not be harmful, they offer the public a dangerously false sense of protection that could deter social distancing and promote the spread of COVID-19. The federal government is asking online retailers to take unregistered products that falsely claim protection from coronavirus off the market. The EPA has continued to add new surface disinfectant products to List N in an effort to combat COVID-19. Any brand that claims to kill or repel bacteria or viruses should be tested and registered by the E.P.A. and with the federal government. 
How To Disinfect For Coronavirus
First Clean, Then Disinfect: First, clean the surfaces, removing any contaminants, dust, or debris. You can do this by wiping them with soapy water (or a cleaning spray) and a hand towel. Then apply a surface-appropriate disinfectant. The quickest and easiest way to do this is with disinfecting wipes or disinfectant spray. Read more here.
Disinfectants To Use For Coronavirus
The U.S. Environmental Protection Agency is arming consumers with a list of disinfectants that people can use to protect themselves from the novel coronavirus. Here are some of the registered disinfectants on the EPA's list: Clorox Multi Surface Cleaner + Bleach, Clorox Disinfecting Wipes, Clorox Commercial Solutions® Clorox® Disinfecting Spray, Lysol brand Heavy-Duty Cleaner Disinfectant Concentrate, Lysol Disinfectant Max Cover Mist, Lysol brand Clean & Fresh Multi-Surface Cleaner, Purell Professional Surface Disinfectant Wipes and Sani-Prime Germicidal Spray. Read more here.
Disinfectant Wipes For Coronavirus
Looking for Lysol spray and Clorox wipes? COVID-19 wiped out disinfectants, but here's when you can buy again. As the coronavirus locks down more of the country, shelf after shelf of Lysol sprays and Clorox wipes has been picked clean by shoppers preparing for the possibility that they could be quarantined for weeks or months. Store limits on disinfecting wipes and sprays haven't slowed the fear-fueled run as households stock up on cleaning products to protect against infection. Neither have eye-popping prices online and off. In March, sales of aerosol disinfectants jumped 343% and multipurpose cleaners 166% from a year ago, according to research firm Nielsen. And still, people are scouring the internet's vast virtual shelves and local stores for more. How could something so basic suddenly be so hard to get? Manufacturers like Clorox were not prepared for skyrocketing demand in a sleepy sector with reliably steady sales that usually only fluctuate during flu season. And, with global supply chains snarled by the coronavirus, they now can't produce enough inventory to meet that demand, supply chain experts say. Read more here.
There are a number of disinfectant and cleaning products that can be effective against the novel coronavirus on hard, nonporous surfaces, in accordance with the EPA Viral Emerging Pathogen Policy.

EPA-registered disinfectant products to use against Novel Coronavirus (COVID-19)

Cleaning and disinfecting tips to remember:
Pre-clean any surfaces prior to disinfecting to remove any excess dirt or grime.
After disinfecting, let the surface air dry as recommended on the product label.
If disinfecting food contact surfaces or toys, rinse with water after they air dry.
Pay particular attention to disinfecting things that come into frequent contact with your hands, like your phone.
If using a disinfectant wipe, throw out after using. Do not flush any non-flushable products.
If you still have questions about a product's specific effectiveness, check out the product or company website, which can provide additional information. Read more here.
Coronavirus In NY: Amazon Pilots Disinfectant Fog At Staten Island Warehouse
April 7, 2020 | New York Post

Amazon.com Inc told Reuters it is piloting the use of disinfectant fog starting on Tuesday at a warehouse on Staten Island, New York, within days of protests at the worksite over health concerns during the coronavirus pandemic. The world's largest online retailer said it is testing the practice commonly used by airlines and hospitals to clean facilities further, on top of introducing temperature checks and masks for staff. Last week, 15 workers at the New York warehouse known internally as JFK8 protested to demand the building's closure following a case of the coronavirus that was reported among staff. An additional demonstration took place Monday. Read more here.
How To Make (And Use) A Disinfectant Against Coronavirus
New York Times | April 7, 2020

Here's a guide to working with sprays, wipes and a bleach-based solution to clean surfaces of the pathogen.

The coronavirus that causes Covid-19 may survive for several days on some surfaces. Estimates of its life span vary, but the virus can clearly hang around long enough to make disinfecting frequently touched surfaces a priority. Normally, disinfectants, like Lysol and Clorox wipes, are available and would do the trick in cleaning most surfaces of contagions, but many of these items have been widely out of stock across the United States. If you cannot find any of these products, you can make an effective homemade disinfectant from a mixture of water and bleach. Read more here.
Coronavirus Food Safety: How To Clean Groceries
According to the CDC, there is no evidence to support transmission of COVID-19 associated with food. Given the continued uncertainty and anxiety around coronavirus, the natural response is a desire to protect ourselves in every possible way. For many, that has meant washing produce with dish soap, antibacterial wipes, disinfecting sprays and other household cleaners. There is only one word I need to address those practices: Don't. Read more here.
Buy the best rated (A+) common restaurant sanitizers, chlorine based sanitizers, sanitizing chemicals and quaternary based sanitizers online at LabAlley.com. Buy pH test strips here. pH strips are pieces of paper that change color depending on the pH – the acidity or alkalinity – of a liquid. Sanitizer test strips help restauant operators make sure that the chemical solutions they are using to sanitize dishes has the proper dilution to perform optimally.
Shop Online At LabAlley.com
Buy Safe Ingredients And Chemicals For DIY Homemade Hand Sanitizers, Cosmetics, Makeup, Lotions, Soaps, Household Cleaning Products, Laboratory Sterilization, Food And Beverage Processing, Skin Care Formulations, Hospital Disinfectants, Personal Care Products, Botanical And Essential Oils, Botanical Extracts, Pharmaceutical Drugs, Herbal Tinctures, Kid Safe Pools, Pest Control Products, Lawn Care Products, Chemistry Labs, Natural Health Supplements And Vitamins, Coronavirus Disinfection Products, Perfumes, Hospital Grade Detergents, Disinfecting Wipes And Disinfectant Sprays At LabAlley.com
Buy bulk natural ingredients and antiviral chemicals, bulk food grade chemicals and organic raw materials for safe recipes for DIY homemade hand sanitizers here. Buy antiviral hand sanitizer ingredients, antiviral disinfectants, antiviral products and antiviral chemical compounds here. Buy antiviral hospital grade disinfectants, pharmaceutical grade substances, hand sanitizers, sterilization sprays, wipes, cleaners and detergents here. 
Buy lab supplies, laboratory glassware, chemical crystals and powders, oils, gels, spray bottles and stock chemical solutions to make Coronavirus disinfectants here. You can also buy other compounds and additives for safe hand sanitizer recipes, cosmetics and personal care products at LabAlley.com. Find out how chemicals are made, sold, priced, bought, shipped and used in the United States here.
Popular additives for skin care products purchased online in bulk at wholesale prices at LabAlley.com include food grade ethanol, 100% alcohol, 95% alcohol, 70% alcohol, 99% isopropyl alcohol, 91% isopropyl alcohol, 70% isopropyl alcohol, 3% hydrogen peroxide, 6% hydrogen peroxide, food grade hydrogen peroxide, food grade (FCC) vegetable glycerin, Food Grade (FCC) glycerol, solvents, aqueous acids and acids in crystalline powder form.
Shop for popular ingredients used to formulate DIY homemade personal care products such as high purity water, citric acid, menthol crystals, natural peppermint oil, Polysorbate 80, phenol, trichloroacetic acid  (TCC), denatured alcohol, n-Propanol, MCT (Coconut Oil), sodium hypochlorite, salicylic acid, fumaric acid, sodium hydroxide, triethanolamine, benzalkonium chloride, triethylene glycol, propylene glycol, ammonium hydroxide, olive oil at LabAlley.com. Buy antiviral hand sanitizer ingredients, antiviral disinfectants, antiviral products and antiviral chemical compounds here. Buy antiviral hospital grade disinfectants, pharmaceutical grade substances, hand sanitizers, sterilization sprays, wipes, cleaners and detergents here. Buy lab supplies, chemical powders, oils, gels, spray bottles and chemical solutions to make Coronavirus disinfectants here at LabAlley.com.
Learn About The U.S. National Pandemic Strategy 
These documents guide the United States' preparedness and response in an influenza pandemic, with the intent of stopping, slowing or otherwise limiting the spread of a pandemic to the United States; limiting the domestic spread of a pandemic, mitigating disease, suffering and death; and sustaining infrastructure and mitigating impact to the economy and the functioning of society. 
16 Safer Disinfectants To Use Against Coronavirus
April 7, 2020
Both the United States Environmental Protection Agency (EPA) and the American Chemistry Council have lists (here and here) of products that do one of two things. Each product either complies with the EPA's emerging viral pathogen guidance, with demonstrated efficacy against viruses harder to kill than SARS-CoV-2 (the virus that causes COVID-19), or have demonstrated efficacy against another human coronavirus similar to SARS-CoV-2. Read more here.
DIY Hand Sanitizers, Face Masks And Disinfecting Sprays | DIY Alternatives for When Stores Are Out of Coronavirus-Fighting Products
April 4, 2020
DIY hand sanitizers were the index species in the current wave of shelf extinctions, with usually plentiful supplies of Purell gel and similar products vanishing fast. Even without sanitizers, epidemiologists stress there is an exceedingly reliable alternative that works just as well: wash your hands with soap and water. Read more here.
CleanSmart Disinfectant Spray Mist Kills 99.9% Of Viruses, Bacteria, Germs, Mold And Fungus
CleanSmart Disinfectant Spray Mist leaves no chemical residue and is great to clean and sanitize CPAP masks and parts. Simply spray, no rinsing, no wiping, air dry. Safe for food contact on counters and all appliances. Free of alcohol, ammonia, bleach, fragrances and dyes. 100% safe to spray and store around children and it breaks down to saline after use. Read more here.
Does Lysol Kill The Novel Coronavirus (SARS-CoV-2)?

The EPA has established a list of disinfectants (List N) that meet their criteria for use against SARS-CoV-2, the cause of COVID-19. The following Lysol products are those that meet either the EPA Viral Emerging Pathogen Policy or have human coronavirus claims. Listed below are Lysol products with their EPA registration numbers.
Buy EPA Certified Lysol Disinfectant Sprays To Kill Viruses 
Buy EPA Certified Lysol Disinfecting Wipes To Kill Viruses 
Buy EPA Certified Lysol Multi-Purpose Cleaners To Kill Viruses
Buy Lysol Bathroom Cleaners To Kill Viruses
Lysol Laundry Sanitizer To Kill Bacteria
Please Refer To The CDC Website For Additional Information
Chemical Disinfection Of Virus‐Contaminated Surfaces
Chemical disinfection is widely practiced as a means of controlling and preventing the spread of infectious diseases. Although disinfection of bacteria has been widely studied, much less attention has been paid to the virucidal potential of commonly used disinfectants in spite of the low infective dose of many human pathogenic viruses. This review considers what is known about the disinfection of viruses and the virucidal properties of different classes of disinfectant chemicals. It focuses on virus disinfection from a practical viewpoint and also critically evaluates the testing techniques currently used for examining the efficacy of disinfectant products. Read more here.
Factors In The Selection Of Surface Disinfectants For Use In A Laboratory Animal Setting
Because surface disinfectants are an important means of pathogen control within laboratory animal facilities, these products must have an appropriate spectrum of antimicrobial activity. However, many other factors must also be considered, including effects on human health, environmental safety, and animal behavior. Aqueous solutions of sodium hypochlorite often are considered to be the 'gold standard' for surface disinfection, but these products can be corrosive, caustic, and aversive in odor. Read more here.
Demand For Antiviral Compounds And Bioactive Compounds Surges
March 31, 2020
COVID-19 is novel type of coronavirus that is affecting the entire planet. Viral infections such as COVID-19, continuously imperil worldwide public health because of a shortage of good antiviral therapeutics. Antiviral compounds are deployed against fatal viruses like HIV, Hepatitis C, Human herpesvirus 6 and Hepatitis B. 
Antiviral compounds (AVCs) are a category of antimicrobial drugs used specially for treating viral infections by inhibiting the development of the viral pathogen inside the host cell. Review a list of antiviral drugs here. Several potent and selective antiviral agents against herpes virus infections have been developed. Research other methods for killing viruses here. 
Some natural small molecules that could reduce the infectivity of SARS-CoV-2, possibly by inhibiting viral lipid-dependent attachment to host cells, are currently being studied. Companies such as R&D Systems (a brand of Bio-Techne) and Lab Alley sell antiviral compounds online. Firms such as BioGems (PeproTech brand), CPC Scientific, Sigma-Aldrich and R&D Systems sell antiviral compounds and products such as bioactive small molecules, small drug molecules and antimicrobial peptides (AMPs). Enveloped viruses can be killed by antimicrobial peptides.
The four FDA-approved antiviral flu drugs recommended by CDC to treat the flu are oseltamivir (Tamiflu), zanamivir (Relenza), baloxavir marboxil (trade name Xofluza®) and peramivir (Rapivab). The FDA assists sponsors in the development of antiviral drugs and biological products. 
A bioactive compound is a type of chemical found in small amounts in plants and certain foods. Studies are being conducted to evaluate the medicinal potential of bioactive compounds against COVID-19. Bioactive compounds have actions in the body that may promote good health. They are being studied in the prevention of diseases. Bioactive compounds are substances that have biological activity, related to their ability to modulate one or more metabolic processes. Bioactive compounds such as fatty acids have an effect on the body as a whole or specific tissues or cells. Bioactive compounds have a positive role in human health.
Medium-chain saturated and long-chain unsaturated fatty acids are highly active against enveloped viruses. Bioactive compounds sold online at LabAlley.com include saturated fatty acids such as stearic acid and palmitic acid. 
Chemical Disinfectants For Sale Online
Chemical disinfectants, water disinfectants and cleaning chemicals used in science labs and healthcare settings include isopropyl alcohol, ethyl alcohol, bromine, chloramines, chlorine dioxide, sodium hypochlorite, formaldehyde, hydrogen peroxide, iodophors, peracetic acid and chlorine compounds. Disinfectants are chemicals that reduce the number of pathogens to safe levels. Chemical disinfectants are not formulated to clean surfaces, so in order to work effectively, surfaces should be cleaned and free from grease, dirt and food before chemical disinfectants are used.
3M™ Disinfectant Concentrates and U.S. EPA Emerging Pathogen Policy

Due to the 2019-nCoV being a newly emerging pathogen there is no U.S. EPA registered disinfectant currently available on the market with the 2019-nCoV efficacy claim specifically listed on their container label. The U.S. EPA Emerging Pathogen Policy allows for professional judgments on effectiveness of disinfectants with current registrations with similar, representative microorganism families based on their cell structures. A person with the appropriate knowledge and technical skills to analyze such information can make a determination based on published information on disinfectant cleaners that meet the U.S. EPA Emerging Pathogen Policy for use on non-critical, hard, non-porous surfaces as defined by U.S. EPA. The following products are U.S. EPA-registered 3M disinfectants that meet U.S. EPA's Emerging Pathogen Policy.

EPA Registered, Quaternary Disinfectant Cleaners | Kills HIV-1, Hepatitis B Virus (HBV), MRSA, VRE, KPC, Rotavirus, Acinetobacter, VRE, Herpes Simplex I And Other Pathogens
EcoLab Virasept Surface Disinfectant Cleaner
According to the company, Virasept is a patented ready-to-use, one-step detergent-disinfectant, virucide, bactericide, tuberculocide, fungicide, and sporicide that effectively cleans, disinfects, and deodorizes. It won't harm fixtures and is formulated for daily use. Buy it online at Walmart.com.
ViruScrub Coronavirus Disinfectant, Mildewcide, Fungicide & Virucide Cleaner
For use as a general, hospital, medical disinfectant, fungicide and virucide cleaner. Kills HIV, HBV and HCV on pre-cleaned hard, non-porous surfaces/objects previously soiled with blood/body fluids. This product can also be used as a non-acid toilet bowl and urinal disinfectant/cleaner. Cleans and disinfects shower rooms, locker room and other large, open areas with floor drains.
Kills Coronavirus (SARS-associated), Canine coronavirus, Human Corona Virus, Staphylococcus aureus (MRSA) and Enterococcus faecalis (VRE)
Neutral pH
Makes 256 Gallons
Scent: Lemon
Unit of Measure: 1 Gallon
Applicable Locations:
Ideal for hospitals, medical and dental offices and clinics, healthcare facilities, nursing homes, day care centers and nurseries, kindergartens, and preschools, restaurants and bars, kitchens, cafeterias, fast food operations, supermarkets, convenience stores, retail and wholesale establishments. Institutional facilities, laboratories, factories, business and office buildings, restrooms, hotels and motels, schools, colleges, churches, athletic facilities and locker rooms, exercise facilities, gymnasiums. Read more here.
Coronavirus Pandemic Sparks Price Surge for Alcohol Used in Hand Sanitizer
April 4, 2020 
A leap in demand for isopropyl alcohol pushes prices to record highs in U.S. and Europe. A key ingredient in hand sanitizers and medical disinfectants has become hard to obtain, triggering its price to surge to an all-time high. Isopropyl-alcohol prices have more than tripled in the U.S. since March 10. Read more here.
US IPA Prices Soar On Rising Global Demand And Supply Shortage
Author: Deniz Koray | Published By ICIS On March 19, 2020
Posted Here On March 27, 2020

HOUSTON (ICIS)--US isopropanol (IPA) prices surged this week on heavy demand for hand sanitizer during the coronavirus (Covid-19) crisis, and there are no quick fixes for either the strong demand or the shortages of product. While European prices had risen to even higher numbers in the past month, US increases had been modest. However, prices surged this week, as domestic IPA spot prices are now assessed at 62-85 cents/lb ($1,367-1,874/tonne) FOB (free on board) US Gulf. IPA prices DEL (delivered) to the US Gulf are assessed at 64-90 cents/lb. 

DOMESTIC IPA MARKETS
Until this week, prices in the US were increasing at much smaller rates than in Europe, generally in the range of 5 cents/lb or less. However, this week was a tipping point for the domestic market, as the US response to the coronavirus was heightened. Isopropyl alcohol is used in many hand sanitizers, which are in high demand among consumers because of their ability to kill germs. Hand sanitizers were among the first products to sell out at grocery stores and pharmacies, but demand has increased since then. It was believed that the US was not seeing the level of IPA price increases as in Europe since it had more ethanol. However, due to the increase in US exports to Europe as well as the rapid rise domestic demand, supply of IPA was nevertheless overwhelmed. One market participant said many producers were on sales allocations, but this could not be confirmed.

EXPORT MARKETS
Last week, an export deal for Europe was heard at $1,350/tonne (61.24 cents/lb) CFR (cost and freight) Europe. Another was heard at $1,700/tonne CFR Europe. This week, prices for individual deals were heard for up to triple these numbers in Europe on imported IPA. However, these are not yet considered representative for the market. According to a market source, prices of exports to Asia in the past several days doubled, while another market participant said that Latin American demand began to heavily increase this week, but that there was almost no supply to provide to buyers there. Export prices now range from 57.52-95.00 cents/lb, although much higher individual spot prices were heard. IPA is a solvent principally used in industrial and consumer products including cosmetics and personal-care products, paints and resins, pharmaceuticals, food, inks and adhesives. It is also used in de-icers in the winter. US IPA suppliers include ExxonMobil, Dow Chemical, LyondellBasell, Monument Chemical and Shell Chemical.
Glycerol Inactivates Viruses

Effect of glycerol on intracellular virus survival: implications for the clinical use of glycerol-preserved cadaver skin. 

Glycerol has long been used for the preservation of skin allografts. The antimicrobial activity of glycerol has not been fully documented. This paper reports the results of an investigation of a model studying the effect of glycerol on the inactivation of intracellular viruses. Two viruses--herpes simplex type I (HSV-1) and poliovirus--were cultured within human dermal fibroblasts. These intracellular viruses were incubated with 50 per cent, 85 per cent and 98 per cent glycerol at 4 degrees C and 20 degrees C for 4 weeks. Each week, the cultures in glycerol and controls in fibroblast maintenance medium were assayed for virus infectivity by examining the ability of harvested viruses to infect further fibroblasts. At 4 degrees C, 85 per cent glycerol could not fully inactivate intracellular HSV-I or poliovirus even after 4 weeks; 98 per cent glycerol inactivated intracellular HSV-I (after 3 weeks) but could not fully inactivate intracellular poliovirus after 4 weeks. At 20 degrees C, 85 per cent glycerol inactivated intracellular HSV-I (within 1 week) but could not fully inactivate intracellular poliovirus after 4 weeks; 98 per cent glycerol inactivated intracellular HSV-I (within 1 week) and inactivated intracellular poliovirus (after 2 weeks). It is suggested that, on the basis of this study, glycerol can reduce intracellular virus infectivity but that its effects are very dependent on concentration, time and temperature such that we would recommend that allograft skin be exposed to 98 per cent glycerol for a minimum of at least 4 weeks at a minimum temperature of 20 degrees C before clinical use.
Monolaurin, also known as glycerol monolaurate (GML), glyceryl laurate or 1-lauroyl-glycerol, is a monoglyceride. It is the mono-ester formed from glycerol and lauric acid. Monolaurin is known to inactivate lipid-coated viruses by binding to the lipid-protein envelope of the virus, thereby preventing it from attaching and entering host cells, making infection and replication impossible. Other studies show that Monolaurin disintegrates the protective viral envelope, killing the virus.Monolaurin has been studied to inactivate many pathogens including Herpes simplex virus and Chlamydia trachomatis. Read more here.
AirX Spray N Go Disinfectant Cleaner & Odor Control Formula
AirX Spray N Go Disinfectant Cleaner & Odor Control Formula is a proven sanitizer on soft surfaces, it cleans and disinfects hard non-porous surfaces, removes tough stains, and contains AirX Airicide that eliminates odors, leaving surfaces smelling clean and fresh. Read more here.
Ethanol Plants Seek Rule Changes To Resupply Hand Sanitizer
By David Pitt Associated Press March 26, 2020

Hospitals and nursing homes are desperately searching for hand sanitizer amid the coronavirus outbreak and the ethanol industry is ready to step in to provide the alcohol, a key ingredient.

DES MOINES, Iowa -- As hospitals and nursing homes desperately search for hand sanitizer amid the coronavirus outbreak, federal regulators are preventing ethanol producers from providing millions of gallons of alcohol that could be transformed into the germ-killing mixture. The U.S. Food and Drug Administration's roadblock has been frustrating the health care and ethanol industries, which have been calling for a relaxed regulation to deal with the public health care emergency. "Hand sanitizer is a big part of our lives," said Eric Barber, CEO of Mary Lanning Healthcare, a hospital in Hastings, Nebraska. "We can't get any. We order it and it's just not available." The problem for the ethanol industry is that most plants make food-grade ethanol, one step below the highest pharmaceutical grade. But since the plants aren't certified to comply with stringent production standards designed to protect quality of medicines, food ingredients and dietary supplements, the FDA doesn't want the alcohol used for a product to be applied to the skin. In addition, the alcohol is not denatured or mixed with a bitter additive to make it undrinkable. The FDA insists this step is "critical" because of cases of poisoning, sometimes fatal, among young children who have accidentally ingested hand sanitizers. An FDA spokesman said Thursday that regulators have already seen a rise in poisonings linked to hand sanitizers in recent weeks, "heightening this public concern." The FDA is also skeptical of industry claims that undenatured sanitizers could be distributed in a way that would keep them away from children. "It is unclear what, if any, measure could be instituted to ensure that the product does not make its way into consumer hands, where children could have access," FDA's Jeremy Kahn said in an emailed statement. Facing a nationwide shortage, Barber said the FDA should temporarily relax regulations to allow alternative production. "You're talking about alcohol. Does it matter if it's fuel grade or whatever the stuff is they're trying to price gouge now? I think its common sense," he said. "We may need to consider a range of possible solutions that were not on the table before the pandemic," said Nancy Foster, a vice president with the group, in an emailed statement to the AP. The Consumer Brands Association, formerly the Grocery Manufacturers Association, has had conversations with the FDA to push the agency to reconsider its guidelines. The group, which represents branded food, consumer products and beverage companies, said that hand sanitizer supplies are running so low that its members have had to ration it out to workers in stores, distribution centers and manufacturing plants. "We need a temporary solution," said Mike Gruber, vice president of regulatory and technical affairs at the trade association. "This goes toward ensuring basic food safety practices." Distillers that produce vodka, whisky and other alcoholic drinks have been given some regulatory waivers by the Alcohol and Tobacco Tax and Trade Bureau allowing them to produce hand sanitizer. Many have done that, but they produce much smaller volumes of alcohol than an ethanol plant could produce. They also receive a benefit in the Senate-passed stimulus bill. The Distilled Spirits Council of the United States, which represents dozens of large and small distillers, applauded Congress for easing taxes on distillers who make hand sanitizer. Under the stimulus package passed late Wednesday, distillers don't have to pay federal excise taxes on alcohol used for hand sanitizer through Jan. 1, 2021. "Hundreds of U.S. distillers are stepping up to produce hand sanitizer and they should not be hit with a huge tax bill for producing this much-needed item, especially at a time when so many of them are struggling," said Chris Swonger, the group's president and CEO. But the council said it's urging the FDA to update its guidance and let distillers use undenatured alcohol for hand sanitizer. The stimulus bill requires distillers to follow the FDA's guidance if they want to receive the tax breaks. The FDA has waived dozens of regulations in recent weeks to boost production of key medical supplies, including coronavirus tests, ventilators, gloves and hand sanitizers. Under the latest FDA guidelines, regulators maintain standards for alcohol, requiring new producers to use alcohol that meets federal or international standards for use in either drugs or food products. The regulatory hurdles are especially frustrating for Midwest ethanol producers who are facing plunging fuel demand and a petroleum fight between Saudi Arabia and Russia that caused prices to plummet. The factors are forcing more plants to curtail production and close. For ethanol producers relaxed rules, including a requirement of the hard-to-acquire denaturant, would allow them to step in an help in a national emergency. "If we could get the FDA to say yes you can use the beverage grade and for the duration of this emergency at least for some point in time here for the next two weeks you can waive the denaturant we would literally have millions of gallons of hand sanitizer available within a matter of days," said Monte Shaw, CEO of Iowa Renewable Fuels Association, an ethanol trade group. "Every one of our plants has gotten contacted by people who want this stuff and we can't send it to them." Andrew Vrbas owner of Pacha Soap, a boutique soap shop in Hastings, Nebraska, had just finished renovating a 100,000-square-foot former bread factory as a project to boost the community. Now, he's preparing to set up hand sanitizer production there to supply to hospitals. He's received calls from hospitals in Nebraska, Florida and New York City seeking hand sanitizer. "We are literally three miles from a plant that has as much ethanol as you could imagine," he said. "We're sitting on millions of gallons of alcohol. If we could rally the federal government to say look if you just let us work with local ethanol producers we have the expertise, we have the ability to provide hand sanitizer to hospitals not only in Nebraska but all across the country that are just reaching out through my network saying if you could send us hand sanitizer, we're out."
U.S. Distilleries Buy Ethanol, Glycerin And Hydrogen Peroxide At LabAlley.com To Make Hand Sanitizers And Handrub Formulations
March 23, 2020
Sales of hand sanitizers in the U.S. are way up. These products are becoming scarce in the face of the growing COVID-19 outbreak. Download the World Health Organization's recipe for recommended handrub formulations here. 
Distilleries in the U.S. purchase alcohol and ethanol at LabAlley.com to produce a 160-proof clear spirit to use as a hand sanitizer. Get a complete list of distilleries (Including Anheuser-Busch) making hand sanitizers instead of spirits here.  Anheuser-Busch and distilleries are racing to make hand sanitizers amid the Coronavirus pandemic.
American distilleries are assisting their communities by producing their own hand sanitizer using a recipe from the World Health Organization. The recipe "starts with ethanol, which is what we have plenty of in the distillery, then you add glycerin, hydrogen peroxide water and you mix it up," Scott Jendrek, owner of Patapsco Distilling Co. in Sykesville, Maryland, told a local NBC News affiliate.
Buy Chemical Ingredients To Make Medical Disinfectants, Cleaning Products And Hand Sanitizers For Coronavirus (COVID-19) Infection Protection
Buy bulk antiviral chemical compounds, antiviral drug components, antiviral substances, antiviral cleaning products and antiviral medication ingredients online at LabAlley.com. 
Coronaviruses are common throughout the world. People can use chemicals purchased online at LabAlley.com to protect themselves from the novel coronavirus. Coronaviruses can infect people and animals. Anyone can get a coronavirus infection, but young children are most likely to get infected. People are racing to buy face masks amid the coronavirus outbreak, but they probably won't protect you from illness. Groups are working to isolate antibodies from infected people in order to develop blood tests for the virus. There is currently no vaccine to prevent coronavirus disease 2019 (COVID-19). Much remains unknown about the novel coronavirus ripping through China, but one thing is certain. The disease can cast a storm over the whole human body. With concerns about COVID-19 running high, supplies of hand sanitizer at local stores may start to run low. 
The CDC always recommends everyday preventive actions to help prevent the spread of respiratory diseases. Use an alcohol-based hand sanitizer with at least 60% alcohol. The EPA has released a list of disinfectants to use against the coronavirus. Disinfecting refers to using chemicals to kill germs on surfaces. Human coronaviruses can remain active on surfaces such as metal, glass, or plastic for up to 9 days after exposure. Coronavirus lingers in rooms and toilets but disinfectants kill it. The CDC recommends EPA-Registered and Hospital Grade Disinfectants to fight Coronavirus. Buy chemical ingredients to make medical disinfectants, cleaning products, hand sanitizers and other virus protection products to destroy the Coronavirus at LabAlley.com. Buy supplies and products to protect yourself from Coronavirus here. Here's the CDC formula for making a diluted bleach solution: Use 5 tablespoons (1/3 cup) of bleach in one gallon of water or 4 teaspoons of bleach in one quart of water. 
Information On How to Prevent Coronavirus From Spreading From Clorox® 
Wash your hands often with soap and water for at least 20 seconds.
Avoid touching your eyes, nose, or mouth with unwashed hands.
Avoid close contact with people who are sick.
Cover coughs and sneezes with a tissue or your elbow—not your hand.
Clean and disinfect shared work spaces and high-contact surfaces.
Stay home if you experience any cold-like symptoms.
Clorox® products you can use for disinfection. These products have demonstrated effectiveness against viruses similar to COVID-19 on hard, nonporous surfaces.
Clorox® Disinfecting Wipes
Clorox® Clean-Up (Spray)
Clorox® Disinfecting Bleach
Inactivation Of Influenza Virus By Mild Antiseptics 
A number of antiseptics were tested for their inactivating effect upon the virus of influenza during a brief period of exposure. This was accomplished by preparing mixtures of the antiseptics and virus, allowing them to remain in contact for 3 minutes, diluting the mixtures to the point where they would not be toxic for chick embryos and then injecting the material into embryonated eggs. Survival of the embryos indicated inactivation of the virus. The following preparations were found to inactivate the virus in 3 minutes or less: phenol, 3 per cent; tincture of iodine, U.S.P. XII, 0.1 per cent; Lugol's solution, U.S.P. XII, 1 per cent; mercuric chloride, 1:1000; potassium permanganate, 1:1000; copper sulfate, 1 per cent; propylene glycol, 90 per cent; liquor antisepticus, N.F. VII, 80 per cent. Read more here.
Coronavirus Resource Hub For Manufacturing Companies
March 23, 2020
Thomas has been the backbone of North American manufacturing for more than 120 years. Visit the Thomas Coronavirus Resource Hub for industrial professionals here. Get information on mission-critical pharmaceutical and medical sourcing options here.
How To Make Your Own Hand Sanitizer During Coronavirus Shortage
March 13, 2020

As coronavirus bears down on Michigan, hand sanitizer is in short supply. After news of 16 confirmed coronavirus cases in Michigan prompted prolonged school closures, canceled public events and work-from-home orders for many workers, shoppers began emptying store shelves of sanitary and medical supplies in hopes of protecting themselves against a more widespread outbreak. If you can't find sanitizer on the shelves and don't want to overpay on the black market, you might want to consider making your own. The World Health Organization recommends a recipe containing nine parts 99 percent isopropyl alcohol (also known as rubbing alcohol), a bit of hydrogen peroxide and a moisturizing agent, such as glycerol or aloe vera gel, though it appears to be written for Nobel laureates rather than mortals. You can concoct your own recipe from aloe vera and 99 percent rubbing alcohol (or seek inspiration from a host of recipes posted online) so long as the mixture is made of at least 60 percent alcohol. Any less, and it won't be an effective germ-killer, according to the Centers for Disease Control and Prevention. But note it's important to get the concentration right or your sanitizer may not be effective or will be too harsh on your skin, which is why several health organizations urge people to avoid DIY concoctions. Read more here.
91% Isopropyl Alcohol Spray

You can make a 91% Isopropyl Alcohol Spray to deactivate the Coronavirus and to kill bacteria. 91% Isopropyl Alcohol Solution sold online here is a powerful cleaning agent. The novel virus (COVID-19) is one of the easiest virus types to deactivate. To avoid the transmission of COVID-19, wash your hands for at more than 20 seconds with soap and water. Enveloped viruses like SARS-CoV-2 that rely on a protective lipid coating are the easiest type to deactivate. You can also make buy 91% Isopropyl Alcohol here to make your own sprays, hand sanitizers and cleaning wipes. 91% Isopropyl Alcohol Sprays prevent the risk of infection in minor cuts, scrapes and burns. You can make your own Isopropyl 91% Alcohol first aid antiseptic spray. Buy 91% Isopropyl Alcohol online at LabAlley.com and put it in a spray bottle. It is that simple. 91% Isopropyl Alcohol Spray is a first aid and sterilization spray used for minor scrapes and cuts. 91% Isopropyl Alcohol Spray is used for sterilizing items for use during first aid. To clean a wound with 91% Isopropyl Alcohol, apply it to the affected area before applying a bandage. Instead of trying to buy 91 Isopropyl Alcohol Spray from Walgreens, CVS, Ace Hardware or Amazon, make you own. You can also use 91% Isopropyl Alcohol to make hand sanitizer and cleaning wipes. Mix two-thirds of a cup of 91% isopropyl alcohol with one-third of a cup of an emollient such as aloe vera.
Buy Steris Coverage Spray 
STERIS' Coverage® Spray TB Ready-To-Use Disinfectant Cleaner is a ready-to-use, quaternary ammonium chloride (quat) based disinfectant spray effective against Mycobacterium tuberculosis (BCG) and other bacteria, the HIV-1 virus (associated with AIDS), Canine parvovirus and pathogenic fungi. It is recommended for use on floors, walls, metal surfaces, stainless steel surfaces, glazed ceramic tile, and other hard nonporous environmental surfaces. 
Buy Steris Coverage Spray To Disinfect TB
Steris Disinfectant is ideal for use in laboratories, hospitals, surgical centers, medical and dental offices, and other patient-care facilities. STERIS' Coverage® Spray TB Ready-To-Use Disinfectant Cleaner is a ready-to-use, quaternary ammonium chloride (quat) based disinfectant spray effective against Mycobacterium tuberculosis (BCG) and other bacteria, the HIV-1 virus (associated with AIDS), Canine parvovirus and pathogenic fungi. It is recommended for use on floors, walls, metal surfaces, stainless steel surfaces, glazed ceramic tile, and other hard nonporous environmental surfaces. Buy Steris Coverage Spray to disinfect Tuberculosis (TB) At LabAlley.com for $28. 
Tuberculosis (TB) is a disease caused by bacteria called Mycobacterium tuberculosis. The bacteria usually attack the lungs, but they can also damage other parts of the body. TB spreads through the air when a person with TB of the lungs or throat coughs, sneezes, or talks. Read more here.
Are Alcohol (Ethanol), Isopropyl Alcohol And Hydrogen Peroxide Classified As EPA Registered Disinfectants?

EPA registered products such as cleaners and disinfectants often contain isopropyl alcohol, hydrogen peroxide and ethyl alcohol (alcohol/ethanol). An EPA-registered disinfectant is a disinfectant that has been registered with the Environmental Protection Agency. The EPA does not consider "alcohol" to be a product on its own. EPA registrations are product specific and are related to claims that the product kills organisms. Because "alcohol" is not considered to be a specific product manufactured by a specific company, alcohol, in and of itself, is not an EPA registered disinfectant, although it is an ingredient in EPA registered disinfectant products. Solutions made with 60%-70% ethyl alcohol have in vitro efficacy against coronaviruses, Ebola virus and murine norovirus.
EPA registered disinfectant formulas that contain isopropyl alcohol or ethyl alcohol are often combined with phenolic compounds and quaternary ammonium to make EPA registered disinfectants for cleaning environmental surfaces in healthcare facilities. The same case holds true for hydrogen peroxide. Many products made with hydrogen peroxide are EPA-registered and can be used to sanitize or disinfect, however hydrogen peroxide, because its very nature can not be registered as a disinfectant with the EPA.
The EPA released a list of disinfectants to protect against the spread of the coronavirus. According to the EPA, products on the list have "qualified for use against COVID-19" through the agency's Emerging Viral Pathogen program where manufacturers provide the EPA with data that "shows their products are effective against harder-to-kill viruses." Read more here.
Quinine And Synthetic Derivatives Are Antiviral, Bactericidal, Antibacterial, Antimicrobial And Antimalarial
Quinine sulfate (Quinine Hydrogen Sulfate) is a organic sulfate salt obtained from guanethidine and sulfuric acid in a 2:1 ratio. It has a role as an antimalarial. It contains a quinine and a quinine(1+).
Chloroquine is a

 

semisynthetic derivative

 

of quinine.
Currently in 2020, the synthetic form of quinine,

 

Chloroquine is being researched and studied to see if it can effectively treat infectious diseases such as coronavirus (COVID-19). 
Some scientists theorize that chloroquine interferes with ACE2 receptor glycosylation thus preventing SARS-CoV-2 binding to target cells. The sythetic form of quinine, chloroquine has been shown to improve the clinical outcome of patients infected by

 

SARS-CoV-2 (COVID-19). 
FDA approved drugs such as quinine sulfate inhibit Dengue virus (DENV) replication.
About Broad Spectrum EPA-Registered One-Step Disinfectants Sold Online At LabAlley.com
Buy chemical ingredients to make Coronavirus disinfectant products and hand sanitizers online. LabAlley.com sells EPA-registered hospital grade cleaners, oxidizing agents, germicidal detergents, EPA-registered disinfectant products and sporicidal disinfectants that are very effective against a broad spectrum of viruses, fungi and bacteria. These hospital grade disinfectants and quaternary ammonium compounds compounds (QACs) are used to clean healthcare facilities, homes, pharmacy cleanrooms, restaurants, airplanes, portable restrooms, salons and hard surfaces for protection against infection from HIV-1, Clostridioides difficile (CDI or C-diff), Coronavirus, Tb, Norovirus, Pseudomonas, MRSA and H5N1. Hospital grade disinfectants ordered online at LabAlley.com are used for cleaning and disinfecting hard, non-porous surfaces, tables, hoods, counters, chairs, handrails, floors, walls, equipment and ceilings. Read more here.
March 10, 2020 Update On The Coronavirus
March 6, 2020 Update On The Coronavirus
March 5, 2020 Update On The Coronavirus
California has declared an emergency over the coronavirus outbreak, as tests continued Thursday on board a Princess cruise ship that has been linked to two cases of the virus in the state. A 32-year-old man from Fort Lee in Bergen County, New Jersey is the first person in New Jersey to be diagnosed with coronavirus. A Texas firm's safety gear flies off shelves on coronavirus fears. Learn how to protect your home from the coronavirus. There are some dos and don'ts when it comes to cleaning. The National Institutes of Health has begun a clinical trial at the University of Nebraska Medical Center to test the antiviral remdesivir for COVID-19. A Pomeranian in Hong Kong reportedly tested positive for traces of coronavirus last week and has been quarantined as a possible first human-to-animal transmission. Google is showing ads for anti-coronavirus products, despite policy banning them.
At Least 18 U.S. States Affected as Cases Mount | Nations on several continents are intensifying their efforts to contain the epidemic, which continues to spread fast. A cruise ship is being held off the California coast and the state has declared an emergency. The Senate is expected to approve $8.3 billion in emergency funding, already approved by the House, to fight the virus. Read more here.
The CDC is closely monitoring an outbreak caused by Coronavirus Disease 2019 (COVID-19) first identified in China. The CDC says US coronavirus cases rise by 20 in a day, topping at least 149. Severe acute respiratory syndrome coronavirus 2 (SARS-CoV-2), previously known by the provisional name 2019-nCoV is a positive-sense single-stranded RNA virus. It is contagious in humans and is the cause of coronavirus disease 2019 (COVID-19). Scientists were close to a coronavirus vaccine years ago. Chinese scientists identify two strains of the coronavirus, indicating it's already mutated at least once. Then the money dried up. Coronavirus is spreading in the US. Here's everything to know, from symptoms to how to protect yourself.
March 10, 2020 Coronavirus Update From Southwest Airlines
In the interest of customer's and employees safety, Southwest Airlines has enhanced their cleaning procedures. Southwest Airlines is closely monitoring the Coronavirus (COVID-19). They clean their aircraft every night using an EPA-approved, hospital-grade disinfectant in the lavatories and an interior cleaner in the cabin. They are now expanding the use of hospital-grade disinfectant throughout the aircraft, and it will be used in the cabin, on elements in the flight deck, and in the lavatory. This goes beyond CDC guidelines. Additionally, they equip all their aircraft with a HEPA (High Efficiency Particulate Air) filter, which filters out recirculate air onboard each plane to remove airborne particles (HEPA filters are also used in hospitals to provide patients with clean air). For more information, review 'Frequently Asked Questions: Coronavirus Disease 2019 (COVID-19)'.
Overview Of Chemical Ingredients Used To Make Coronavirus Infection Protection Products
More Information On Coronavirus Infection Protection
How To Make Your Own Hand Sanitizer | Washing Your Hands Is The Best Way To Protect Yourself, But Sanitizer Is Second Best
To be effective, hand sanitizer needs to have a strength of at least 60 percent alcohol. Since you're going to have to mix your sanitizer with aloe vera gel in order to stabilize it and protect your hands, most recipes suggest that the mixture contain at least two-thirds 99 percent isopropyl alcohol and one-third gel. A 91 percent alcohol would work as well. Read more here.
Show Me the Science – When & How to Use Hand Sanitizer in Community Settings
CDC recommends washing hands with soap and water whenever possible because handwashing reduces the amounts of all types of germs and chemicals on hands. But if soap and water are not available, using a hand sanitizer with at least 60% alcohol can help you avoid getting sick and spreading germs to others. The guidance for effective handwashing and use of hand sanitizer in community settings was developed based on data from a number of studies. Read more here.
What Cleaning Products Kill Viruses?
EPA-registered chlorine bleach/hypochlorite solutions are also effective against viruses. Follow label instructions when using any EPA-registered disinfectant. Disinfect with bleach if you don't have a disinfecting cleaner or wipe on hand. The CDC recommends using 1/4 cup chlorine bleach with one gallon of cool water. Read more here.
Antiviral Activity Of Lugol's Solution (Lugol's Iodine)
Lugol's Iodine, also known as aqueous iodine and strong iodine solution, is a solution of potassium iodide with iodine in water. Iodine products and Lugol's Iodine are sold online at LabAlley.com. Cleaning with iodine may stop the spread of viruses. Jean Guillaume Auguste Lugol (18 August 1786 – 16 September 1851) was a French physician. It has been know for a long time that iodine kills viruses. Povidone iodine has been used in hospitals under the brand name Betadine. BETADINE® is used for upper respiratory tract infection care.
Best Approach To Disinfecting Surfaces Amid Novel Coronavirus Outbreak
Human coronaviruses can remain active on surfaces such as metal, glass, or plastic for up to 9 days after exposure. The best way to deal with that problem is by cleaning those surfaces with a solution that's 62% to 72% ethanol, .5% hydrogen peroxide, or 0.1% sodium hypochlorite within 1 minute of contamination, according to investigators with University Medicine Greifswald and Ruhr University Bochum in Germany whose study ran as an article in press in the Journal of Hospital Infection (JHI). Read more here.
How Does Ethyl Alcohol Kill Bacteria
Ethyl alcohol kills bacteria mainly through 2 mechanisms: protein denaturation and dissolving the lipid membrane. Proteins, the machinery of the cell, must be dissolved in water in order to properly function. When one puts a protein in ethanol (ethyl alcohol), the protein can not function properly and becomes denatured. Also, bacteria are surrounded by a lipid membrane (fatty acids). The membrane is held together because the alkane chain of a fatty acid is hydrophobic, and thus buries itself amongst other lipids. However, the lipids will freely dissolve in ethanol, causing a disruption of the bacterial membrane. This ruptures the bacteria so it can no longer live. Read more here.
Chemicals Used In Hand Sanitizers
Hand sanitizer often has a form of alcohol, such as ethyl alcohol, as an active ingredient and works as an antiseptic. Other ingredients could include water, fragrance, and glycerin. Other non-alcohol based hand sanitizers contain an antibiotic compound called triclosan or triclocarban. Read more here.
A special hormone called interferon is produced by the body when viruses are present, and this stops the viruses from reproducing by killing the infected cell and its close neighbours. Inside cells, there are enzymes that destroy the RNA of viruses. Some blood cells engulf and destroy other virus infected cells. Read more here.
Buy Benzalkonium Chloride At LabAlley.com
Alcohol-free products, which CDC research has found are less effective at killing germs, employ a variation of antiseptic active ingredients, such as Benzalkonium chloride. The bottom line: "Alcohol sanitizers, natural or not natural, are safe, or safer than anything else to clean your hands with," Larson said. Read more here.
Interim Environmental Cleaning and Disinfection Recommendations for U.S. Households with Suspected or Confirmed Coronavirus Disease 2019 (COVID-19)

A list of products with EPA-approved emerging viral pathogens claims, maintained by the American Chemistry Council Center for Biocide Chemistries (CBC), is available at: https://www.americanchemistry.com/Novel-Coronavirus-Fighting-Products-List.pdf. Products with EPA-approved emerging viral pathogens claims are expected to be effective against COVID-19 based on data for harder to kill viruses. Follow the manufacturer's instructions for all cleaning and disinfection products (e.g., concentration, application method and contact time, etc.). Read more here.
Use Of Disinfectants: Alcohol And Bleach - Infection Prevention
Alcohol is effective against influenza virus (252). Ethyl alcohol (70%) is a powerful broad-spectrum germicide and is considered generally superior to isopropyl alcohol. Alcohol is often used to disinfect small surfaces (e.g. rubber stoppers of multiple-dose medication vials, and thermometers) and occasionally external surfaces of equipment (e.g. stethoscopes and ventilators). Since alcohol is flammable, limit its use as a surface disinfectant to small surface-areas and use it in well-ventilated spaces only. Prolonged and repeated use of alcohol as a disinfectant can also cause discoloration, swelling, hardening and cracking of rubber and certain plastics. Read more here.
What Is The Active Ingredient In FDA Approved Hand Sanitizers?
Most consumer hand sanitizers sold in the US contain ethyl alcohol, according to the FDA. Read more here.
Interim Guidance For Environmental Cleaning In Non-Healthcare Facilities Exposed To SARS-CoV-2 
Several antimicrobial agents have been tested against different coronaviruses. Some of the active ingredients, e.g. sodium hypochlorite (contained in the household bleach) and ethanol are widely available in nonhealthcare and non-laboratory settings. A recent paper which compared different healthcare germicides found that those with 70% concentration ethanol had a stronger effect on two different coronaviruses (mouse hepatitis virus and transmissible gastroenteritis virus) after one minute contact time on hard surfaces when compared with 0.06% sodium hypochlorite. Tests carried out using SARS-CoV showed that sodium hypochlorite is effective at a concentration of 0.05 and 0.1% after five minutes when it is mixed to a solution containing SARS-CoV. Similar results were obtained using household detergents containing sodium lauryl ether sulphate, alkyl polyglycosides and coco-fatty acid diethanolamide. Read more here.
Information On Hand Sanitizers From Wikipedia
Hand sanitizer is a liquid generally used to decrease infectious agents on the hands. Formulations of the alcohol-based type are preferable to hand washing with soap and water in most situations in the healthcare setting. It is generally more effective at killing microorganisms and better tolerated than soap and water. Hand washing should still be carried out if contamination can be seen or following the use of the toilet. The general use of non-alcohol based versions has no recommendations. Outside the health care setting, evidence to support the use of hand sanitizer over hand washing is poor. They are available as liquids, gels, and foams. Read more here.
Information On The 2019–20 Coronavirus Outbreak From Wikipedia
The 2019–20 coronavirus outbreak is an ongoing public health emergency of international concern involving coronavirus disease 2019. It is caused by SARS-CoV-2, first identified in Wuhan, Hubei, China. As of 4 March 2020, more than 94,000 cases have been confirmed, of which 7,100 were classified as serious. 82 countries and territories have been affected, with major outbreaks in Central China, South Korea, Italy, and Iran. More than 3,200 people have died: almost 3,000 in mainland China and about 240 in other countries. More than 51,000 people have recovered. The virus primarily spreads between people in a similar way to influenza, via respiratory droplets produced during coughing or sneezing. The time between exposure and symptom onset is typically five days, but may range from two to fourteen days. Symptoms may include fever, cough, and shortness of breath. Complications may include pneumonia and acute respiratory distress syndrome. There is currently no vaccine or specific antiviral treatment, though research is ongoing. Efforts are aimed at managing symptoms and supportive therapy. Recommended preventive measures include hand washing, maintaining distance from people who are sick, and monitoring and self-isolation for fourteen days for people who suspect they are infected. Public health responses in China and around the world have included travel restrictions, quarantines, and curfews. These have included the lockdown of Hubei and various curfew measures in China; the quarantine of a British cruise ship Diamond Princess in Japanese waters; as well as lockdowns in Italy. Some airports and train stations have instituted screening methods such as temperature checks and health declaration forms. Several countries have issued advisories warning against travel to regions with ongoing community transmission, such as Central China, Italy and Iran. Wider concerns about consequences of the outbreak include political and economic instability. They have also included xenophobia and racism against people of Chinese and East Asian descent, and the spread of misinformation about the virus, primarily online. Read more here. 
If Soap and Water Are Not Available, Hand Sanitizers May Be a Good Alternative 
Washing your hands is one of the most important things you can do to avoid getting sick and spreading germs to people around you. The best way to prevent the spread of infections and decrease the risk of getting sick is by washing your hands with plain soap and water, advises the Centers for Disease Control and Prevention (CDC). If soap and water are not available, the CDC recommends using an alcohol-based hand sanitizer that contains at least 60 percent alcohol to reduce the number of germs on your hands. However, hand sanitizers do not eliminate all types of germs, are not as effective when hands are visibly dirty or greasy, and may not remove harmful chemicals. Hand sanitizers are an easy, quick alternative when handwashing with plain soap and water isn't convenient or possible. Hand sanitizers often have a form of alcohol, such as ethyl alcohol, as an active ingredient and are used as an antiseptic. Millions of Americans use these products every day, sometimes several times daily, to help reduce bacteria on their hands. That's one of the reasons the U.S. Food and Drug Administration (FDA) is working to help ensure that over-the-counter (OTC) hand sanitizers are safe and effective for regular use. Recently, the FDA asked manufacturers of hand sanitizers for more information on three commonly used active ingredients in OTC hand sanitizers. Those ingredients — alcohol (ethanol or ethyl alcohol), isopropyl alcohol, and benzalkonium chloride — are used in approximately 97 percent of OTC hand sanitizers. The FDA's request for more data about these three ingredients doesn't mean the agency believes these products are ineffective or unsafe, or that these products should be removed from the marketplace. Rather, the agency asked for more data to help assess whether these products are safe and effective for regular use. Read more here.
Professional Cleaners Ask Questions About Combating the Coronavirus
Professional cleaners concerned about the effects coronavirus could have on their facilities participated in special webinar yesterday morning sponsored by ISSA and the Global Biorisk Advisory Council® (GBAC), a division of ISSA. The webinar provided an opportunity for GBAC to outline its cleaning and disinfecting protocols as well as answer any questions. "We're learning day-to-day about this coronavirus, we're all going to the be the ones on the front line," Patty Olinger, GBAC executive director, told webinar participants before she and GBAC's panel of forensic operators/forensic restoration specialists answered their cleaning and disinfecting questions. Many listeners had questions about the best cleaning products to eliminate the coronavirus. The GBAC panel advised they read the label of their preferred cleaning product, then check the manufacturer's website, as many manufacturers have updated their product information website to indicate effectiveness against the new virus. When asked about specific chemicals, such as hydrogen peroxide, Paul Meechan advised that hydrogen peroxide with a dilution ratio of 7% or more will kill coronavirus. "What you buy in a regular store for household use is 3% dilution, so you need to purchase the commercial type," he said. Read more here.
Buy Isopropyl Alcohol (C3H8O) Online Here Or By Phone: 512-668-9918
If you have questions about ordering isopropyl alcohol (isopropanol) online here at LabAlley.com or would like to place an order, call 512-668-9918 or email customerservice@laballey.com to talk with a Isopropyl Alcohol Specialist. Isopropyl Alcohol is shipped to customers in the United States by UPS. 
Hydroxychloroquine For COVID-19 Treatment
Doctors and pharmacists from more than half a dozen large healthcare systems in New York, Louisiana, Massachusetts, Ohio, Washington and California told Reuters they are routinely using hydroxychloroquine on patients hospitalized with COVID-19. At the same time, several said they have seen no evidence that the drug, used for years to treat malaria and autoimmune disorders, has any effect on the virus. Use of hydroxychloroquine has soared as the United States has quickly become the epicenter of the pandemic. The Food and Drug Administration has not approved hydroxychloroquine as a COVID-19 treatment, but the agency has provided an emergency use authorization for the anti-malarial drugs to be used in clinical trials or for hospitalized patients when a doctor deems it appropriate. Read more here.
Coronavirus (COVID-19) Infection Protection
Isopropyl alcohol, that contains at least 60% alcohol, by volume, is suitable for do-it-yourself hand sanitizers that protect against coronavirus infection.
Virus Inactivation Mechanisms: Impact of Disinfectants on Virus Function and Structural Integrity
Oxidative processes are often harnessed as tools for pathogen disinfection. Although the pathways responsible for bacterial inactivation with various biocides are fairly well understood, virus inactivation mechanisms are often contradictory or equivocal. In this study, we provide a quantitative analysis of the total damage incurred by a model virus (bacteriophage MS2) upon inactivation induced by five common virucidal agents (heat, UV, hypochlorous acid, singlet oxygen, and chlorine dioxide). Each treatment targets one or more virus functions to achieve inactivation: UV, singlet oxygen, and hypochlorous acid treatments generally render the genome nonreplicable, whereas chlorine dioxide and heat inhibit host-cell recognition/binding. Using a combination of quantitative analytical tools, we identified unique patterns of molecular level modifications in the virus proteins or genome that lead to the inhibition of these functions and eventually inactivation. UV and chlorine treatments, for example, cause site-specific capsid protein backbone cleavage that inhibits viral genome injection into the host cell. Combined, these results will aid in developing better methods for combating waterborne and foodborne viral pathogens and further our understanding of the adaptive changes viruses undergo in response to natural and anthropogenic stressors. Read more here.
What Inhibits And Inactivates Viruses?