Ammonium Carbonate, FCC Grade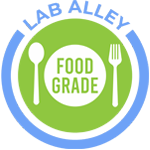 Shop All Ammonium Carbonate Products Here
Description
Ammonium Carbonate, also termed Baker's salt, is an inorganic compound with the chemical formula (NH4)2CO3. It appears as a colorless powder with a strong ammonia-like odor under ambient conditions. It is a combination of Ammonium Carbamate and Ammonium Bicarbonate, which is commonly used to make fertilizers. It slowly decomposes in the presence of air to produce ammonia and carbon dioxide. It is considered a chemical leavening agent owing to its alkaline pH and is widely employed in the baking industry as a substitute of baking powder and baking soda. Due to its high purity, it completely conforms to the FCC (Food Chemicals Codex) Grade and that makes it ideal for foods, pharmaceuticals, and medications. In the United States of America, Lab Alley is selling its high-quality Ammonium Carbonate, FCC online at laballey.com.
Specifications
Ammonium Carbonate, FCC Grade Features:

| | |
| --- | --- |
| Assay | 30.0-34.0% |
| Chloride (Cl) | 0.003% |
| Heavy Metals (as Pb) | 5mg/kg |
| Nonvolatile Residue | 0.05% |
| Sulfur Compounds (as SO4) | 0.005% |
Applications
Common Uses
Reagent
Alkalization agent
Baking
Commercial/Industrial Application
Bakery products
Ceramics
Textile dyeing
Safety and Handling
Please contact us to request a Safety Data Sheet (SDS) and Certificate of Analysis (COA) for Ammonium Carbonate Food Grade.
Product Ordering Options, Prices, Bulk Sizes & Shipping
You can buy Ammonium Carbonate, FCC Grade for $11 online, locally or call 512-668-9918 to order bulk sizes. Your packages will be shipped in 1-2 business days via UPS or LTL. Lab Alley Brand Ammonium Carbonate, FCC Grade is for sale in bulk sizes and is in stock. Handy individual consumer size containers for DIY projects are leak resistant. This high quality compound is made in America. It is a high purity chemical substance that is ideally suited for scientific, development, analytical, clinical, medical, research and testing applications. Ammonium Carbonate, FCC Grade is delivered quickly to laboratories, factories and businesses in safe chemical resistant containers.
Manufacturing size drums, IBC totes, pallet loads and bulk industrial production scale quantities are shipped from Lab Alley's U.S.-based distribution centers by LTL freight carriers. Request a discounted wholesale price quote, here. Read customer and product reviews, here. Read return and refund policies, here. Lab Alley, founded in 2013, is a reliable Ammonium Carbonate, FCC Grade supplier and distributor headquartered near Austin, Texas. Lab Alley was a 2021 Inc. 5000 honoree. Email customerservice@laballey.com if you have questions about buying Ammonium Carbonate, FCC Grade.
Download the Ammonium Carbonate, FCC Grade MSDS/SDS to get safety tips and health hazard information. Ammonium Carbonate, FCC Grade should be carefully handled, stored in a cool dry place and chemical waste should be disposed of properly and safely.
Ammonium Carbonate, FCC Grade Retail Prices, Package Sizes And Bulk Quantity Ordering Options: 55g $11, 12oz $22, 1lb $28, 25lb $341, 50lb $660, 5lb $99, 8oz $22.
You May Also Like
Customer Reviews
Write a Review
Ask a Question
10/28/2021
Ian K.

United States
Ammonium carbonate
Shipped promptly, thank you!