-
Why Buy Food Grade Ethanol, 200 Proof from Lab Alley
Price. Don't worry! We do our homework. This product is offered at the industry's lowest possible price.
Availability. In-Stock. This product is in stock and ready to ship. Orders are usually shipped in 24-48 hours.
Deliverability. Fast Shipping! This product is packaged with care from high quality, food grade packaging materials.
Quality. Our curated products bottled in America match or exceed strict specifications.
Product Information
Ethanol And Organic Alcohol For Extraction, Tinctures And Essential Oils
Overview
Food Grade Ethanol 200 Proof is a food safe 100% alcohol product used for extraction, tinctures, foods and beverages. Buy 1 liter, 1 gallon or 5 gallons. You can buy Food Grade Ethanol 200 Proof products online or call 512-668-9918 to order bulk sizes. Your packages will be shipped in 1-2 business days via UPS or an LTL (less than truckload) freight carrier. Typical order delivery is 3-6 days.
Food grade ethanol 190 proof (95% alcohol) products and food grade 140 proof (70% alcohol) products are also for sale online at LabAlley.com.
U.S. federal alcohol excise tax is included in the price of all Lab Alley brand food grade ethanol products. To identify this chemical substance in the US, the Chemical Abstracts Service has assigned the unique 'CAS' identification number, 64-17-5, to these Lab Alley brand ethanol products. The PubChem Compound Identifier (CID) number specifying the chemical structure of this ethanol product is 702.
Ethanol is the intoxicating ingredient found in wine, beer, brandy and liquor. This organic compound is made by the alcoholic fermentation of sugars, starches and yeast. 200 proof alcohol contains 100% ethanol made from grain and no water. Lab Alley Brand Food Grade Ethanol 200 Proof is 100% (99.98%) pure ethyl alcohol with no additives and it is food safe. This highly concentrated Lab Alley brand ethanol product derived from grain, contains no toxic denaturants, flavorants or stabilizers. Lab Alley brand Food Grade Ethanol 200 Proof products are the purest form of ethyl alcohol.
Food grade ethanol 200 proof non-denatured ethanol products are not tainted with water, flavors, denaturants, other chemical substances such as methanol or isopropyl alcohol. They do not contain chemical compounds such as denatonium benzoate which is used to make ethyl alcohol taste bitter. They do not contain tert-Butyl Alcohol (TBA) which has a distinct smelling camphor-like aroma.
In the United States, this undenatured 100% pure ethyl alcohol product is referred to as 'alcohol', 'absolute alcohol', 'absolute ethanol', 'ethanol absolute', 'rectified spirit', 'pure alcohol', '200 proof alcohol', 'grain alcohol', 'grain neutral spirit', 'neutral spirit', 'Everclear', 'drinking/ drinkable ethanol' or 'pure ethanol'.
Lab Alley brand food grade ethanol 200 proof dissolves the healthy components of plant materials to form concentrates. These 100% pure concentrates are safely used to make alcohol-based tinctures, unique concentrated liquid herbal extracts, personal essential oils, hydroethanolic extracts, DIY supplements and homemade remedies and medicines.
Business And DIY Uses
Properties
This Lab Alley brand 200 proof ethanol food grade product is an organic compound with the chemical formula CH₃CH₂OH. The formula for this primary alcohol is also written as C₂H₅OH, C₂H₆O or EtOH. This product is a volatile, flammable, clear colorless liquid with a pungent or burning taste and a unique pleasant aroma.
The flash point of this Lab Alley ethanol product is 55 °F., the density is 6.5 lb / gal and the boiling point is 173.1°F. Lab Alley brand pure ethanol 200 proof is 100% pure non-denatured food grade ethanol (ethyl alcohol). It is miscible with water and other organic solvents, such as acetic acid, acetone, chloroform, diethyl ether, ethylene glycol, glycerin, pyridine, and toluene. Despite being a chemical commonly used in homes, extraction systems and laboratories, ethanol is classified as a hazardous material (HAZMAT), because it is highly flammable.
Lab Alley brand food grade ethanol 200 proof products are regulated for transport by the DOT. It is designated as a Class 3 flammable liquid by the Department of Transportation (DOT). Over 90% of the ethanol produced in the U.S. is shipped by train or truck. DOT regulates the safe transportation of ethyl alcohol by rail and truck.
Because ethanol 200 proof (100%) undenatured alcohol, USP/FCC food grade is a very pure form of alcohol, its use in foods is regulated by FDA and the Bureau of Alcohol, Tobacco and Firearms. The FDA has labeled food grade ethanol 200 proof as a Generally Recognized as Safe (GRAS) substance for use in food and beverage products.
The UN number (United Nations number) that identifies food grade ethanol 200 proof as a hazardous material is 1170. The vapor from food grade ethanol 200 proof is heavier than air and can travel a distance to cause a fire or explosion far from the source and flashback. Ethyl Alcohol may form an ignitable vapor/air mixture when stored in closed containers and tanks.
Lab Alley brand 200 proof food grade ethanol products are strong medium polarity solvents. The chemical properties of this product facilitate the efficient extraction of both water soluble and oil soluble bioactive components from plants, herbs and flowers. 200 proof undenatured ethanol has been used for a long time as a means of extracting oil from plant materials. The physical properties of 100% pure ethanol make it a highly productive FDA approved organic extraction solvent to dissolve, draw out, separate, retain and carry essential oils, medicinal plant oils, and botanical extracts.
When diluted to 70%, this product efficiently kills microorganisms, bacteria and viruses and is recommended for disinfecting surfaces, cleaning and sterilization. When Lab Alley brand 100% ethyl alcohol is diluted to 70% with pure water, the resultant solution becomes rapidly antimicrobial. Based on CDC recommendations, the use of anything greater than 60 percent ethanol will allow for proper disinfection of viruses.
Bulk Sizes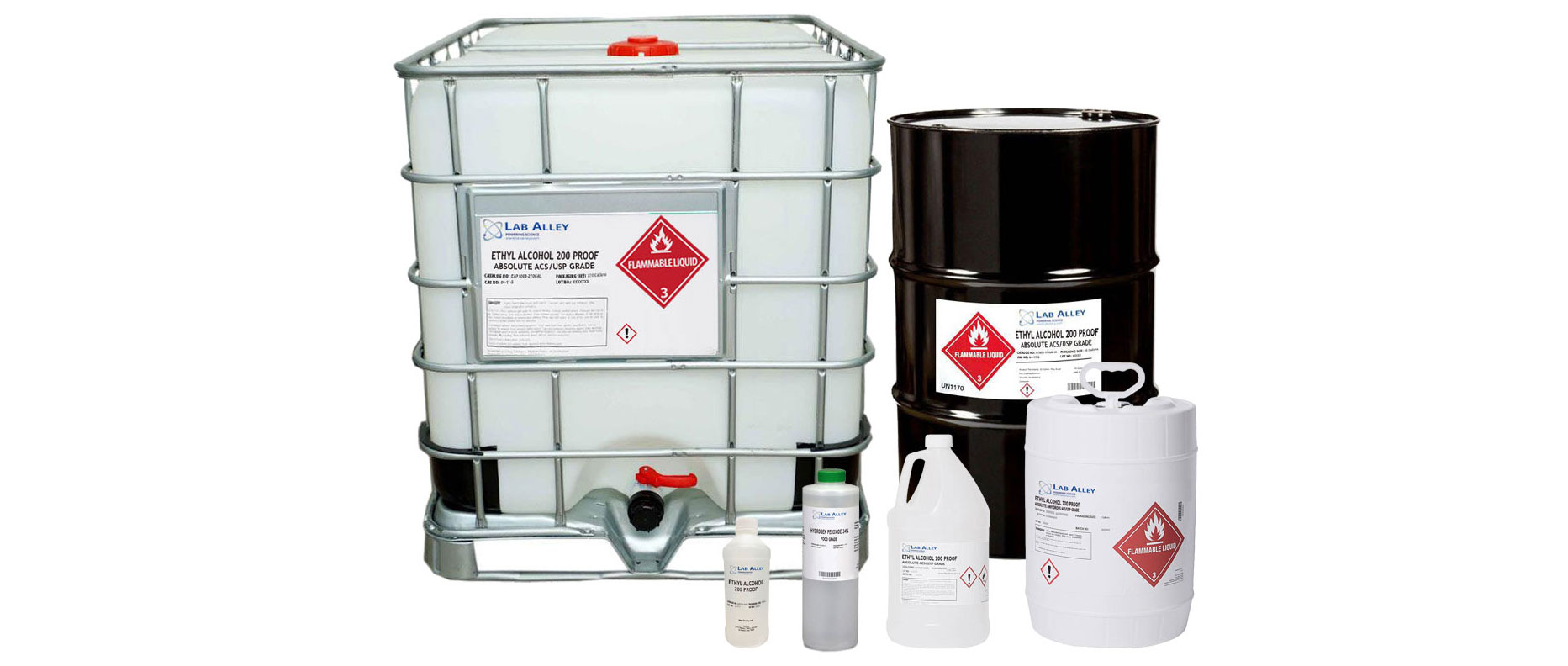 PDFs
Details
About Food Grade 200 Proof Ethyl Alcohol
Pure, sometimes called "absolute" ethanol, is 100% ethanol. Absolute food grade ethanol is preferred for many common techniques in food research and development, including food grade extraction and fraction isolation, or food grade synthesis.
For food grade synthesis, the presence of water could result in undesired byproducts. For example, many volatile organic compounds are synthesized in ethanol, and can be added to food to manipulate flavor and aroma. The use of food grade solvents in all of these applications ensures the safety and purity of food and food standards for consumers. 
Common Uses and Applications
Food processing
Reagent
Solvent 
Cosmetics

Perfumes
Industries
Chemistry Table
| | |
| --- | --- |
| | 64-17-5 |
| | C2H5OH |
| | 46.07 |
| | Food Grade Ethanol 200 Proof, Pure Undenatured Food Grade Ethanol, Pure 200 proof ethyl alcohol, 200 Proof Dehydrated Ethanol, 200 Proof Anhydrous Ethanol |
| | 702 |
| | FCC |
| | NLT 99.5% |
| | Ethanol 200 Proof (Pure) |
| | 1170 |
Food Grade 200 Proof Ethanol Specifications
| | |
| --- | --- |
| Assay | 99.98% |
| Undenatured or Denatured | Undenatured Ethanol, Food Grade Ethanol, Pure Ethanol, Absolute Ethanol |
| Physical Form | Liquid |
| Boiling Point | 78°C (173°F) |
| Upper / Lower flammability or explosive limits | 3.3 %(V) / 19 %(V) |
| Freezing point | -114°C (-173°F) |
| Relative Density | 0.785 g/mL at 25°C (77°F) |
| Auto-ignition temperature | 363°C (685°F) |
Safety and Shipping Information
GRAS Reference Citation 21 CFR 184.1293.
Pure 200 proof ethanol is hazardous. Hazmat fee required. DOT: Ethanol (undenatured ethanol), 3, UN1970, PG II). Please feel free to download LabAlley's PDF, Safety Data Sheet (SDS). Below, please find a downloadable PDF, Certificate of Analysis (COA).
You can buy food grade 200 proof ethanol in a pint or pallets. For bulk orders, please call Lab Alley customer service, 512-668-9918 or email us at, customerservice@laballey.com. We ship within 1-2 business days in the US and Canada.
View Product Manuals
can i use your 200 proof food grade non denatured ethyl alcohol for extracting the oil out of cannabis marijuana? please email me at arrowsmith01@gmail.com. thank you

Pure ethanol is widely used in extraction of oils from plants and herbs. Our Ethanol 200 proof is naturally sourced through the fermentation of corn, highly pure, food grade product make it an effective solvent in extraction processes. 

Thank you.